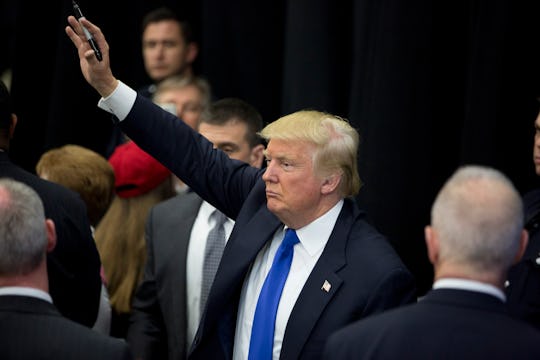 Aaron P. Bernstein/Getty Images News/Getty Images
This One Graph Shows How Donald Trump Is Dominating Super Tuesday, & It's Terrifying
Remember all those years of your life when the idea that Donald Trump could become President of the United seemed preposterous? Yeah, me too. But here we are, on a night when a third of the Republican delegates' votes will be decided, and who is in the lead by far? Donald Trump. If you're having trouble fully accepting that, if you're still cacooned in your Snuggie of denial, nothing drives it home like a visual, namely a particularly spectacular and terrifying one from The New York Times. This one graph shows how Trump is winning Super Tuesday, and it's stunning in the not-so-positive sense of the word.
The main graph shows a live estimate of the final delegate count on the GOP side. As of 9 p.m., the paper predicted Trump would finish Super Tuesday with at least 280 delegates, with his closest competitor, Cruz, approximately 130 delegates behind him. 130. If you scroll down, you see a list of graphs for the 10 states holding Republican contests Tuesday night. Trump is ahead — often by a lot — in all but Texas and Oklahoma. (Minnesota and Alaska aren't shown yet.)
It's not like no one predicted these results; Trump was widely expected to win, and by a lot. According to Bloomberg News, PredictWise, FiveThirtyEight, RealClearPolitics, and Ballotcraft a predicted a massive Trump win Tuesday. Google Trends also saw Trump as the winner, based on search volume, according to CNET.
But sometimes you have to see it to believe it, and The New York Times communicated the reality of the situation with brutal clarity Tuesday.
With Trump doing so well, the future of not just the presidency but also the Republican party is extremely uncertain. According to CNBC, if Trump has a majority of delegates going into the Republican convention in Cleveland in late July, he's the nominee. If he has the most votes but not a majority in the first vote of the convention, delegates committed to Trump ahead of it are, for most states, allowed to shift their support to other candidates, according to Bustle. If Trump becomes the nominee, however he does it, it's unclear what that means for the Republican party as a whole.
For now, just focus on the fact that Trump, real estate mogul, former Celebrity Apprentice host, supporter of building a wall to keep out Mexican immigrants and and banning Muslims from the U.S., is well on his way to becoming the Republican nominee. That's unsettling enough all on its own. Just look at the graph.