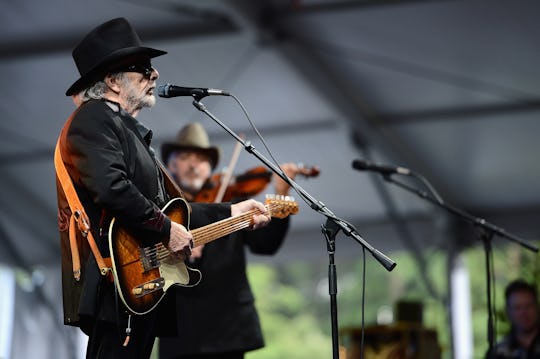 Stephen Lovekin/Getty Images Entertainment/Getty Images
This One Merle Haggard Quote Proves Why He Was So Influential To Country Music
The country music world collectively wept on Wednesday after news of Merle Haggard's death hit headlines. The singer-songwriter passed away on his birthday at the age of just 79, following a months-long struggle with pneumonia. Haggard was a country music legend, with almost 40 number one hits and dozens of awards — including a few Grammys— to his name. Immediately following the news, fans everywhere began posting tributes to the musician's career, which will no doubt leave an impact on future generations. Of course, Haggard was always very honest and upfront about his life and his career, and this one Merle Haggard quote proves exactly why he was so influential to country music.
In his 1981 biography, Sing Me Back Home, written with author Peggy Russell, Haggard wrote,
I've lived through 17 stays in penal institutions. Incarceration in a penitentiary. Five marriages, a bankruptcy, a broken back, brawls, shooting incidents, swindlings, sickness, the death of loved ones and more. I've heard tens of thousands chant my name when I couldn't hear the voice of my own soul. I wondered if God was listening and I was sure no one else was.
It is this pain, struggle, and strife that Haggard experienced (not to mention the sheer determination to make it out alive), that makes him so essential and influential to country music today — and made his songs, albums, and his trademark, heartfelt "honky tonk" style so memorable.
As he mentioned in his book, Haggard had a history of run-ins with the law early on in life. After he lost his father to a stroke at nine-years-old, he was sent to a reform school as a teen and later got arrested for a number of small crimes.
Following an attempted robbery in 1957, a 19-year-old Haggard was sent to legendary California prison, San Quentin. It was there that he met fellow country music legend Johnny Cash, who was playing for the prisoners at the time. According to Rolling Stone, it was at that moment that Haggard knew he could never go back, and once released, he returned home to play music.
Haggard's decision to start making music and stay out of prison paid off. After his release, he went on to record hits like his signature 1969 song, "Okie From Mukogee", and win his first Grammy in 1984 for Best Male Country Vocal Performance. Haggard continued to tour and release and write music well into the 2000s, even pushing on through a bout with lung cancer in 2008 and a pneumonia diagnosis in September last year.
What Haggard's quote proves is that through all the pain in hardships that anyone faces in life, there will be times when it feels like they are alone, times when you'll be surrounded by people but feel like the only person in the room, and times when you feel like no one is listening even when you're shouting (or singing) at the top of your lungs. Rather than letting it beat you down, the singer's example of persistence proves that some of the greatest folk art and country music (or any art for that matter) can stem from struggle.
For Haggard, the struggle is what gave him the ability to write relatable songs and become the legendary musician that he is today. His example has inspired the likes of such renowned country artists as Waylon Jennings and given newer artists like Eric Church a solid "Bakersfield sound" on which to build their careers.
Merle Haggard may have wondered whether God was listening — but at least he can now rest peacefully in the knowledge that God's not the only one.