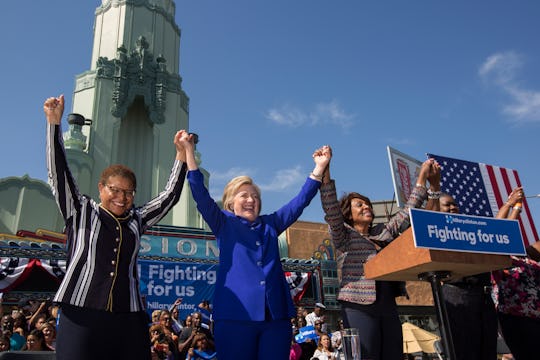 David McNew/Getty Images News/Getty Images
This One Tweet About Hillary Clinton's Presumptive Nomination Shows Why It's So Monumental
Following months of hard-fought primary battles, on Monday night, former Secretary of State Hillary Clinton officially reached the necessary number of delegates to secure the Democratic presidential nomination. In Long Beach, California, where the former Secretary was busy stumping to get out the vote, supporters cheered wildly and Clinton herself managed to give a few words of thanks for their dedication over the past year before heading out to continue campaigning. While the occasion was no doubt an exciting one for her supporters everywhere, one tweet about Clinton's presumptive nomination proved exactly why, if nothing else, the moment was so monumental.
"Wow," tweeted Ellen Show producer Andy Lassner. "Hillary Clinton becomes first woman to top a major party ticket for President of the United States. I love that we all get to see this."
That Clinton was able to overcome such an ugly primary battle, with Republican rivals making an easy target of her and contentious (but arguably civil) offensive strikes being lobbed at her from within her own party, is an achievement in and of itself. Certainly, while the primary race isn't over — Vermont Sen. Bernie Sanders has vowed to continue on to the Democratic convention in July — she has a ways to go before she's able to sit back comfortably and revel in her victory. But for now, both the former Secretary and her supporters can rest easy that they've made history together.
Clinton herself seemed to understand the weight of Monday night's call, which was reported early on by outlets like the Associated Press. In a statement to ABC News following a speech to supporters in Long Beach, California, where Clinton has been stumping for votes for the past few days, the former Secretary noted emotionally,
It's really emotional. And I am someone who has been very touched and really encouraged by this extraordinary conviction that people have. It's predominantly women and girls, but not exclusively. Men bring their daughters to meet me and tell me that they are supporting me because of their daughters. And I do think it will make a very big difference for a father or mother to look at their daughter, just like they can look at their son, and say, "You can be anything you want to be in this country — including President of the United States."
Just as President Obama's nomination and subsequent White House win stood as a momentous occasion — the first black President of the United States — so too does Hillary Clinton's presumptive nomination stand by itself in the annals of history, no matter which side of the political aisle you happen to fall on. Celebrating that victory only feels right.