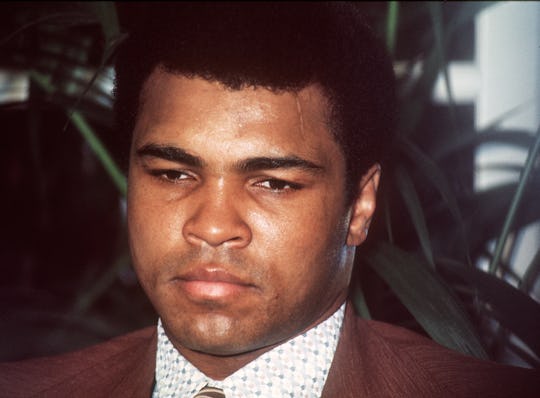 DERRICK CEYRAC/Getty Images
This One Tweet About Muhammad Ali Shows He Was Just As Much A Champion Outside The Ring
Muhammad Ali, who died Friday at the age of 74, is famous for being the most successful heavyweight champion boxer of all time, but as the world mourned his death Saturday, it became clear that Ali was beloved and remembered for much more than that. A humanitarian, conscientious objector. And one tweet about Muhammad Ali especially captures what this incredibly strong human meant to those who are physically much weaker.
The range of Ali's experiences and accomplishments is truly remarkable. He became a star in the '60s following a 1960 Olympic gold medal and his upset of heavyweight champion Sonny Liston in 1963, in which he claimed the title for himself. But Ali became an icon when he revealed after the Liston bout that he had converted to Islam, changed his name from Cassius Clay, what he called "his slave name" according to The Independent, to Muhammad Ali, and refused to serve in Vietnam based on his religious beliefs, even though his conscientious objection cost him his title.
But Ali never bowed out of the spotlight, and his work extended far beyond the boxing ring. Banned from fighting after he refused the draft, he spent his time on college campuses speaking out against the war and the oppression of black Americans, and he didn't mince words. He said he had no issue with the Vietcong, in part because, "They never called me n*gger. They never lynched me. They didn't put no dogs on me," NBC reported.
He clearly had no interest in conforming to the archetype of the American sports hero — patriotic, Christian, white or downplaying his blackness — and he managed to earn even more fame and admiration as a result.
Ali eventually returned to the ring, and his boxing career lasted until 1981, shortly after which he was diagnosed with Parkinson's, but neither retirement nor illnesss diluted Ali's energy. He took on a range of tasks, from visiting Lebanon and Iraq in the late '80s and early '90s to negotiate for the release of American hostages to talking a suicidal man off of a Los Angeles ledge in 1981 (yes, really) to lighting the Olympic torch in Atlanta in 1996 even as his hands trembled with disease, and criss-crossing the globe in between.
The sheer number of things Ali was able to do in his life and his refusal to surrender his principals as he did them was the subject of many tweets following his death. One in particular, though, from Lisa Bolekaja, a staff writer at Bitch Flicks, gets at all that Ali did and was — a celebrity and star athlete but, more important, a person of color who refused to hide or compromise who he was and had no problem at all calling out oppression and hypocrisy.
Everyone knows Ali was a boxer. But today, the world also remembers the many other ways he was a fighter and a champion.