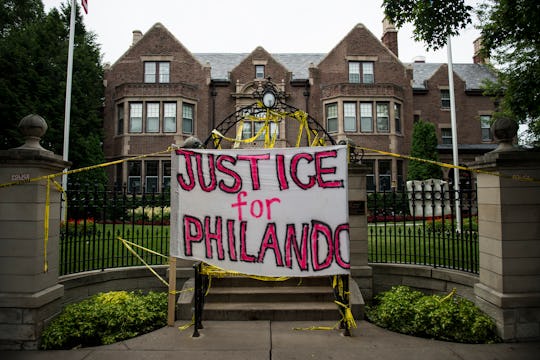 Stephen Maturen/Getty Images News/Getty Images
This One Tweet About Philando Castile's Death Is Crucial For Parents To Read
What does today look like for Diamond Reynolds? How does she go through the daily, mindless rituals we are all so blindly accustomed to after what she lived through on Wednesday? How does she remember to brush her teeth, button up her top, lace her shoes, when her world as she knew it has changed forever? In the aftermath of yet another police shooting that ended with the death of Reynold's boyfriend, life must feel surreal not only for her, but for her young daughter who witnessed the whole thing. This one tweet about the death of Philando Castile is a crucial must-read for every parent.
Philando Castile, a 32-year-old public school cafeteria supervisor from St.Paul Minnesota, was shot four times by a police officer on Wednesday when he was pulled over for a broken tail light. And his girlfriend, Diamond Reynolds, live streamed the aftermath of the shooting on Facebook while the police officer still had a gun pointed at her car, while more police officers screamed at her to get out of the car and get down on her knees, and while her daughter cried in the background. In a deceptively calm voice, she explained that Castile was simply reaching for his license and registration when the officer shot him four times. She can be heard asking about her daughter as she exists the vehicle. Because, in her shock and panic, she was making a choice. One no mother should ever have to make.
It would be disingenuous of me to pretend I can relate to the struggles Reynolds must have been dealing with in that moment. Because I'm a white woman, and I've never in my life had to make a choice like that. Sure, I'm a mother and I have a partner. I know the strain and tug of having two different loves who need you differently at different times in your life. But if we were pulled over by the police for a traffic violation, would I fear for every life in my vehicle? Would my heart catch in my throat, or would I feel the need to document the experience to expose injustice of any form?
Probably not. I would worry about getting a ticket, and that's it.
I have been reading about Philando Castile — reading about the sort of man he was before he was gunned down on Wednesday. So many people have said so many lovely things about him; the parents whose children attended J.J.Hill Montessori Magnet School in St. Paul, Minnesota; his supervisors who remembered him as a man who "took his role seriously" and "followed directions carefully," according to Time magazine. People clearly cared for him. I hope he knew that.
I think it might have been Joan Edman, a retired paraprofessional who worked with Castile, who said it best. She told Time Castile loved working with the kids:
He remembered their names. He remembered who couldn't have milk. He knew what they could have to eat and what they couldn't. This was a real guy. He made a real contribution. Yes, black lives matter. But this man mattered.
I've been thinking about that, about how Castile was a man who mattered. About the choice Reynolds had to make in that car on Wednesday. About the divide between she and I and about the divide between our children and their safety.
It's time for all parents to say enough is enough — people shouldn't have to worry about being shot in front of their children or about being cognizant enough to film the entire thing.