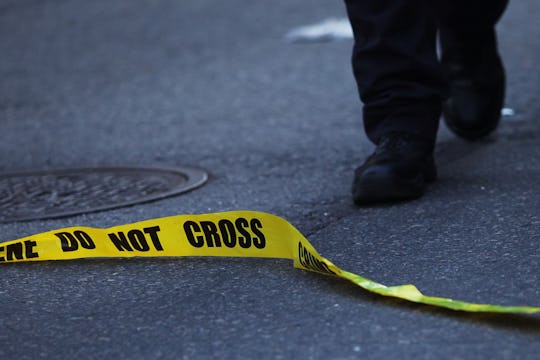 This One Tweet Sums Up How The San Bernardino Shooting Is Making Everyone Feel Right Now
Update: According to officials, two of the suspected San Bernardino shooters are dead following a shoot-out with police, and one of the suspected shooters is a female. Late Wednesday authorities identified the suspects killed as Syed Farook and Tashfeen Malik, the woman, and said they had been in a relationship. Farook was a U.S. citizen and an employee of the of the San Bernardino County Health Department. Further details about Malik are not yet known. Police also detained a third individual at the scene, but it's unclear whether or not that person is connected to the shooting at the Inland Regional Center (where officials say they might have found an explosive device).
In a press conference earlier, the San Bernardino Police Department Chief Jarrod Burguan confirmed that up to three people opened fire at Inland Regional Center, leaving upwards of 14 people dead, with at least 21 additional people injured. At the time of the press conference, law enforcement was still clearing the scene, and the search for the suspects was ongoing.
Earlier: At around 2:15 p.m. EST on Wednesday, at least three shooters in San Bernardino, California entered the Inland Regional Center and began shooting, killing at least 14 people and injuring at least 17 others. As the police and response teams in California continue to work to bring the situation to a conclusion at this time (Update: The suspects were still at large when this post originally went up; two were later apprehended and one of the suspects has been identified as female), the response from the People Of The Internet is already loud, clear, and quite conclusive: This is all becoming so heartbreakingly exhausting.
The San Bernardino shooting, which comes barely three weeks after a mass shooting in Paris left over 120 people dead, has only hammered in not only how frequent gun violence, mass shootings, and domestic terrorism have become lately, but that enduring the colossal wave of complicated emotions that these horrific events bring with them does not get any easy. In fact, in a year that's already seen more than 350 mass shootings in the U.S. in 2015, I think it's safe to say that weathering the fear, shock, outrage, frustration, and almost unbearable sadness that accompanies mass shootings only gets harder the more it happens.
Since it's 2015 and this is what we do now, Twitter has predictably been awash in sentiments of all of those feelings — fear, shock, outrage, frustration, and almost unbearable sadness — since news of the San Bernardino shooting first broke. But there's something palpably... different about the way we're reacting to this particular shooting. Sure, for the most part, the tweets look the same as they do on any other day, after any other mass shooting, reflecting all the thoughts and feelings that we've come to expect to hear and say when something like this happens. But then... the tweets look the same as they do on any other day, you guys. And in the very early moments (the situation is very much still active at the time this post is being written), we can already feel a familiarity about the situation in San Bernardino that is both nauseating and disorienting — and that feeling is perfectly conveyed in this one upsettingly relatable tweet:
If there's anything more tragic than the loss of life in San Bernardino today (and admittedly, there's not), it's that the frequency with which mass shootings are occurring in this country means that in the coming weeks, months, and years, those of us who are not intimately tied to the events in California today will very likely have a hard time picking this mass shooting out of a mental lineup of the countless others that bore a terrifying, mind-numbing resemblance to it. As much as we all cry out that we refuse to accept this as our new normal, the fact is, it might be happening without our permission.
Image: Spencer Platt/Getty Images