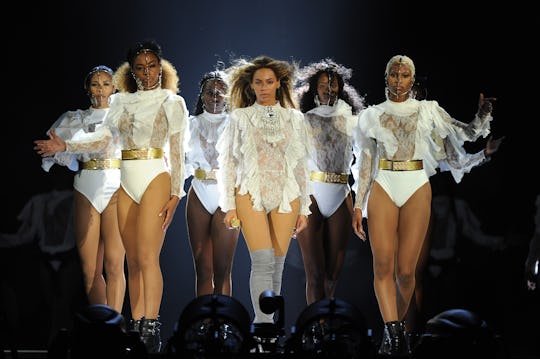 Handout/Getty Images Entertainment/Getty Images
This Photo Of Beyonce & Blue Ivy On The Formation World Tour Shows Just How Close They Are
The Formation World Tour is here and Beyoncé kicked off the much-anticipated tour on Wednesday in Miami at Marlins Park. The opening night comes just days after the singer stunned her fans with her thought-provoking visual album, Lemonade, which was released in an hour-long HBO special Saturday night. And as Beyoncé is many things to many people — an artist, a singer, a dancer, a wife, an inspiration — one thing she will also always be is a mom. I, like many of her fans and admirers, don't know her personally and obviously can't speak to her (or any other celebrity's) parenting on a personal level. But one thing is for sure: Beyoncé makes a point to celebrate and show pride in her adorable daughter, Blue Ivy. This photo of Beyoncé and Blue Ivy on The Formation World Tour is too cute to ignore. And it's important.
Beyoncé embraces motherhood, just as she shows pride in her dance moves, her killer vocals, her body, her music, and her artistry. It's all a part of who she is, and she has never apologized for it. The photo of Beyoncé nuzzling her nose against Blue Ivy's on a stage (where she is getting ready to totally dominate) in casual clothes as a happy-looking Blue Ivy sits on her lap rocking some serious headphones encapsulates one of the many dynamics of parenting: balancing business and taking care of the little one. And, while Beyoncé's unique situation of money and resources can't be ignored, I'm sure a lot of moms and dads can relate in some ways — world tour or not.
It's pretty awesome the way Beyoncé celebrates Blue Ivy. In her song "Formation," the singer makes a sweet — but, important — reference to Blue, by praising her afro. As a black woman raising a black girl, Beyoncé is showing that she understands the importance of celebrating and admiring her daughter's features since society still lacks in uplifting black women and with visibility and representation in mainstream media.
Beyoncé never shies away from sharing the love she has for her baby girl. In a 2013 interview with Vogue Beyoncé opened up about her love for Blue and about how having a child gave her a different perspective on life as an artist.
I feel like I have something that has grounded me so much more. Family has always been important. I've always had my mother and my father and my husband. But it's just... Life is so much more than... It's not defined by any of this.
Fans will surely look forward to seeing more adorable shots of Blue Ivy and Beyoncé throughout her tour. Like all parents know, the parental duties never stop.