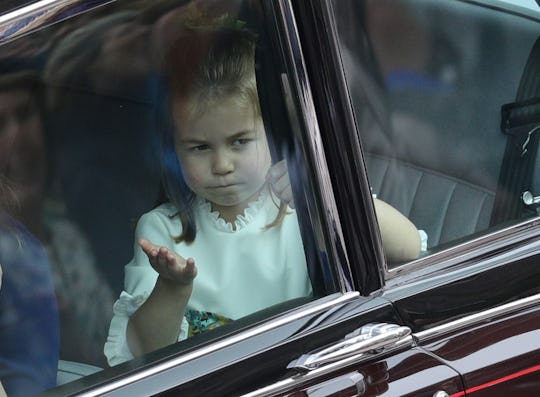 WPA Pool/Getty Images Entertainment/Getty Images
This Sassy, Candid Photo Of Princess Charlotte At The Royal Wedding Is All Of Us
When it comes to being literal royalty, there are few people who seem naturally better suited to the role than Princess Charlotte. She may only be 3 years old, but the Duke and Duchess of Cambridge's second-born is basically already a total pro, constantly charming the world with her perfectly-timed waves and adorable curtsies. Given that she's already been a bridesmaid in a number of high-profile weddings, Princess Charlotte also seems like she has wedding party etiquette down. But before turning on her trademark cuteness in front of the world's cameras Friday, the princess was snapped looking less than impressed. And honestly, this photo of Princess Charlotte at Princess Eugenie's wedding is basically the perfect photographic representation of exactly how we're all feeling at the end of a long week.
The princess joined the rest of the bridal party — including her brother, Prince George — in a car en route to St. George's Chapel, marking the second time this year she's assumed bridesmaid duty at Windsor Castle. But, even when your brother is one day going to be king, and you live in an actual palace, the truth is that, sometimes, you still just feel over it. And it meant that her expression as she pulled up to the wedding was almost too relatable.
In fact, Princess Charlotte's unimpressed face at Princess Eugenie's wedding is probably the first time I've ever felt like we might have something in common. Because it turns out that, even princesses sometimes have no time for anybody's nonsense:
Of course, it didn't take long for Charlotte to tap into her inner "royal highness" reserves and morph into the poised and confident youngster we all know and love: she gave a few perfect waves to the waiting crowd, before masterfully leading her fellow bridal members up the steps to the chapel entrance.
And even though she appeared to take a slight tumble, she quickly got back up again, hardly ever losing her princess composure:
And, well, is she ever not the cutest?
In fact, Charlotte even seemed to have passed on some of her waving expertise to her fellow bridesmaid, Maud Windsor, the 5-year-old granddaughter of the Queen's cousin, Prince Michael of Kent, according to Town & Country, and also Princess Eugenie's goddaughter:
But even though Princess Charlotte is probably more easygoing at 3 years old than most people are, well, ever, I'd like to think that her unimpressed face at the beginning of the day suggests that when it was all over, she was able to kick off her shoes, eat some wedding cake and run around with her brother, cousins, and friends (that has to be the kid equivalent of coming home from work and taking off your bra before lying down on the couch, right?).
Either way, Princess Charlotte has once again proven to the world why she definitely doesn't need to be the heir to be completely fabulous. And something tells me she's just going to continue to be even more fun to watch as she grows up.