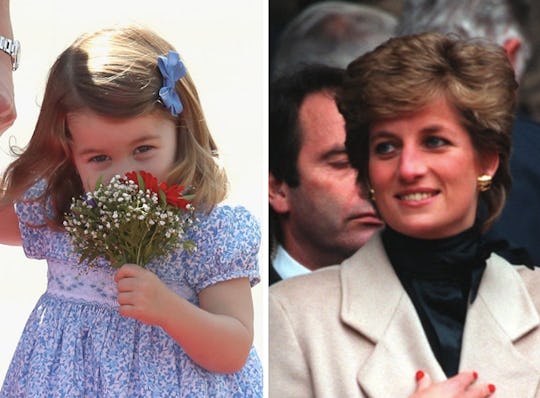 Chris Jackson/Getty Images Entertainment/Getty Images Pascal Rondeau/Getty Images Sport/Getty Images
This Photo Of Princess Charlotte Compared To Princess Diana Will Make You Say "Whoa"
Everyone loves to look at pictures of little kids to try to figure out who they look like, right? I'm pretty sure this is a thing for most families, even the royal ones. While the actual royal family might not be hitting their non-existent social media feeds to discuss who they think the royal kids look most like, everyone else certainly has been talking about it. And there's one picture in particular that's making the rounds these days. Most recently, this side-by-side photo comparison of Princess Charlotte and Princess Diana has been making people do double-takes, because it's just super satisfying to see. Because Princess Diana might be gone, but she is obviously living on in her children and grandchildren.
The 3-year-old daughter of the Duke and Duchess of Cambridge, Princess Charlotte, has long been compared to her great-grandmother, Queen Elizabeth II. Royal watchers have done a significant amount of internet sleuthing to find pictures of Queen Elizabeth as a young girl, and swear she Princess Charlotte looks exactly like her. The young princess has also been compared to her grandfather, Prince Charles, her own father, Prince William, and her mother, Kate Middleton. But it's her possible resemblance to the grandmother she never had a chance to meet that is really stirring up the internet right now.
Check out the picture of Princess Charlotte at 3 and Lady Diana Spencer at 4, as People reported. Do you see it?
So here is what I see; they both have a little extra sparkle in their eyes, a little spiciness, in my opinion. Beyond that, it's tough to tell.
Until you see this picture and lose your damn mind because Princess Charlotte and Princess Diana are basically twins.
It's rather bittersweet to see Princess Diana as a young girl beside her granddaughter, of course. Princess Diana died in 1997 in a car crash in Paris when her two sons, Princess Charlotte's father Prince William and her uncle Prince Harry, were just 15 and 12 years old respectively, according to PopSugar. Because of this, she never had the chance to meet her daughters-in-law, Kate Middleton and Meghan Markle, nor any of her three grandchildren: 4-year-old Prince George, Princess Charlotte, or baby Prince Louis.
No wonder royal watchers are excited to see any family resemblance between Princess Diana and her granddaughter. Perhaps especially because Princess Charlotte seems to be such a little spark plug. She's always giving the press a hell of a time; sticking her tongue out, telling reporters they aren't coming to her baby brother's christening. Prince Harry said in a 2017 documentary that his mother really enjoyed indulging a little "naughty" behavior, according to People, so I like to think she would have gotten a real kick out of her granddaughter. Sassing the paparazzi who plagued her grandmother relentlessly in the years before her untimely death.
As for Princess Charlotte's two brothers, it's too difficult to tell who Prince Louis might look like since he was just born in April. But when it comes to her older brother Prince George; I don't think too many people would disagree that he is an absolute carbon copy of his own father, Prince William.
Princess Charlotte definitely resembles Princess Diana if those pictures are anything to go by. But she still looks a hell of a lot like Queen Elizabeth when she was a little girl. Actually, she looks like the Queen circa now as well.
She even waves like her great-grandmother, which is just about the cutest thing in the world.
Princess Charlotte has a whole lot of strong women to look up to in her life; her own mother, Queen Elizabeth, her new aunt Meghan Markle. And despite the fact that she's gone, her grandmother Princess Diana. It's sad that the two never had a chance to meet, but the late royal's spirited ways seem to be living on in her granddaughter.