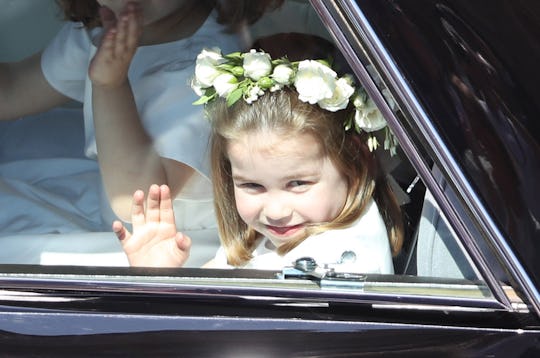 WPA Pool/Getty Images Entertainment/Getty Images
Princess Charlotte Stuck Her Tongue Out At The Royal Wedding, & OMG A Star Is Born
Oh hey. There was a royal wedding today — I'm not sure if you heard. And while Meghan Markle, now the Duchess of Sussex, looked beautiful and, most importantly, totally in love with her husband Prince Harry, it didn't take long for another star to be born — Princess Charlotte. Maybe it's because I have my own very precocious 3-year-old daughter, but everything sweet little Charlotte does is just the cutest. Whether she's enthusiastically waving to her fans or posing for the cameras, she's a pint-sized star. So today, when Princess Charlotte stuck her tongue out at the royal wedding, I fell in love with her a little bit more.
To be honest, I'm not sure how many photos I have of my daughter that look just like this — I've honestly lost count. I don't know why little kids love to stick their tongue out, but this is definitely a face that fills up my camera roll and, sometimes, it's the only way to get her to smile without showing every single one of her teeth. (Another childhood favorite.) I'm not entirely sure if Princess Charlotte wanted to be silly or if she was just sticking her tongue out at the photographers just because she's 3, but either way, it made for a super cute picture.
But of course, this isn't the first time Charlotte's proved her superstar status. It's common knowledge that when Charlotte has a public appearance, we're bound to see something adorable. She's known for her enthusiastic personality, her willingness to pose and smile for the cameras, and her energy for waving. Oh the waving. Less than a month ago, when her father Prince William, the Duke of Cambridge, took her to the Lindo Wing along with big brother Prince George to meet their baby brother Prince Louis, Charlotte hammed it up for the cameras. She waved, she smiled, and she kept the energy up all the way until they reached the hospital door. And, naturally, everyone took notice. (I mean, how could you not?)
But in addition to her adorable tongue sticking out, Charlotte also had some other cute moments during today's royal wedding. For starters, she was one of Meghan Markle's flower girls, and adorably held hands with another flower girl as she walked into the chapel to accompany her new auntie. But when the ceremony was over and the family headed outside, Princess Charlotte had no reservations about waving enthusiastically to all of her fans and the photographers outside. Prince George, on the other hand, looked a little exhausted by all the pomp and circumstance.
I feel ya, George.
Whether Princess Charlotte is riding in a car or standing with her family for a quick appearance on the Buckingham Palace balcony, the media can always guarantee they'll get a cute photo or video of the littlest girl in the Windsor house. I don't know where she gets this bold, bright personality, but in a world of so much darkness, knowing there are always going to be Princess Charlotte waving gifs is really helpful. Only time will tell if little brother Prince Louis follows in her I-don't-mind-the-attention foot steps, or if he'll be more reserved like big brother Prince George. But one thing's for sure — Princess Charlotte is rocking that middle child status. And as a fellow member of the Jan Brady and/or Stephanie Tanner Fan Club, I totally approve of this.
Keep waving, Princess Charlotte. The world is literally counting on your cuteness. And please don't lose that sassy attitude. I love to think that she stuck her tongue out when her tiny elbow just got way too tired of all the waving.