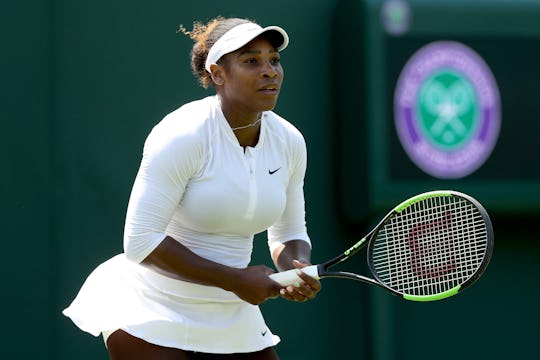 Matthew Stockman/Getty Images Sport/Getty Images
Serena Williams' Daughter Olympia Is Already Wimbledon's Biggest Star This Year — PHOTO
I might not know much about tennis, but even I'm excited about Wimbledon. Perhaps because people wear so much white clothing, which seems like a real challenge, and tennis is sort of soothing to watch. And then there's a whole lot of Serena Williams, who I love since I'm not a robot. But this year, Williams might not be the biggest thing to hit Wimbledon since... well, the last time she was there. No, this year Serena Williams' daughter Olympia is Wimbledon's biggest star. Sorry to all of the people who trained and practiced for years, but there it is.
This year marks the first time the seven-time Wimbledon champ will be back at the tournament since giving birth last September, according to the BBC. Her attendance will mark only the third tournament that the 23-time Grand Slam winner has played in the past year, so it's obviously a big deal. But there's one person who doesn't seem all that impressed with her mother's status as a tennis queen: little Alexis Olympia Ohanian Jr., probably because she's only 9 months old and doesn't understand what tennis is yet. And yet, she seems to be utterly fascinated by the sport, if this picture from her Instagram feed is anything to judge by.
Although, maybe not. Maybe she just thinks the grass looks delicious, because the caption that accompanies her photo reads, "Hummm that looks yummy #wimbledon go Mommy."
Olympia — who Williams shares with husband, Reddit co-founder Alexis Ohanian Sr. — has shown interest in tennis in the past. Her mom told People in April, "She watches tennis like a hawk. She never takes her eyes off tennis when it's on. It's weird and that makes me a little nervous."
It might make her nervous, but I think other people might be OK with the idea of Olympia becoming a tennis star. Even the folks at Wimbledon seem to be into the idea.
And I'm not so sure that Serena Williams is truly against the idea of Olympia becoming a tennis player. She did buy her a tiny tennis racket, according to W magazine. Back in February, Williams shared a photo of Olympia holding the tiniest tennis racket you've ever seen with the caption:
Olympia Ohanian, at match point, championship point, even without her shoes she's hard to beat. Serving now For her 12th Wimbledon title. 3 more than her mum Serena.
Imagine if this dream comes true? It could you know. Serena Williams has a habit of making sure her dreams come true.
It's a beautiful thing, to see Serena Williams, tennis champion and fierce warrior, preparing to compete at her first Wimbledon as a mom. Williams told People that she still doesn't let her daughter come to training to watch her (which makes sense since she's probably trying to focus on playing tennis instead of playing with her adorable baby), but that she plans to bring her along when she gets a little older. "I definitely look forward to her coming," she told People.
Meanwhile the world will have to simply be satisfied with the status quo. Watching Serena Williams kill it at Wimbledon, which she will hopefully do when the tournament begins in four days. Watching Olympia Ohanian take Wimbledon by storm just by being her cute little self, hopefully wearing that adorable tennis dress she was wearing on Instagram. Enjoying the fact that life for Serena Williams is moving forward, that she is playing tennis and raising a baby and seems incredibly happy.
And maybe one day, Olympia Ohanian will follow in her mother's footsteps. Whether that's playing tennis or just being a fierce feminist. The future looks good.