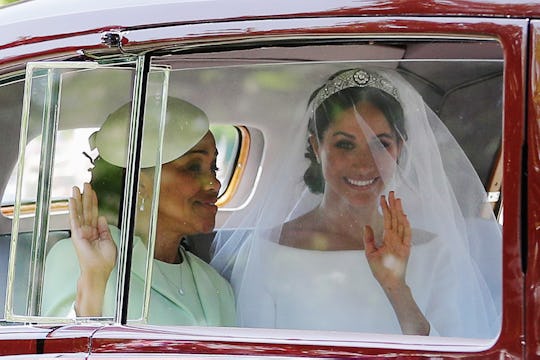 Richard Heathcote/Getty Images Entertainment/Getty Images
This Photo Says Everything About What Meghan's Marriage Means To Parents Of Color
I've always been totally into the mystique of the royal family. Growing up in the United States, the idea of having real royals "ruling" over the people intrigued me (hey, at least it was more honest than America's invisible aristocracy). Diana, Princess of Wales, was like a Disney princess to me. Not only was she pretty and glamorous, she was kind and giving. When it was announced that the Duke of Cambridge, Prince William, was marrying Kate Middleton, a commoner, some were surprised because she didn't have the right breeding, but to me she was still a white, British woman, who came from money. How surprising could it be? How far we've come. Watching the royal wedding, one shot in particular, said everything to me about what Meghan's wedding to Harry means to people of color.
Now a duchess, Meghan Markle is a black woman. (Some use the term "bi-racial", being that she has a white father and a black mother.) When word came out that the younger Prince Harry was dating a black actress, of course there was outrage from some. The implication was, "How dare she?" as if Prince Harry belonged to them, the British, and as though Meghan wasn't good enough. She wasn't from money and wasn't as refined as Kate or Diana.
But the royal family has seemed to embrace Meghan, an American, black actress. On the wedding day, Markle's mother, Doria Ragland, wore chartreuse — the same color worn by the Queen of the United Kingdom for the occasion, in a carefully planned comment about power and status. And in coverage of the nuptials, Ragland could be sitting front and center in the pews, watching on as her daughter married into the royal family.
Originally from Los Angeles, Meghan Markle is divorced — another strike against her suitability for the union, which could not have taken place until the Church of England changed its rules in 2002. Recall that the Prince of Wales, Prince Charles, originally wasn't going to be able to marry his long-time love, the Duchess of Cornwall, Camilla Parker-Bowles.
I'm not applauding them for "accepting" a black girl and it shouldn't be as big of a deal that a white man married a black woman. It's 2018 and a lot of white guys are married to black girls, and lots of black guys are married to white girls. It's not a big deal. Honestly I think the big deal here is that Harry is allowed to marry whomever he pleases, allowed to marry for love.
During the ceremony, I couldn't help but tear up. Not only because someone of color has finally married into the British monarchy, but because of how loved Meghan is.
Of course, Meghan has had to deal with racist comments from the press and public. Even over here in the United States, when we had a black president and first lady, they could not get the full respect that they deserved because of their skin color.
But Meghan will be the duchess that everyone can look up to. Not only is she beautiful, but she's willing to leave her successful acting career behind to be a servant to a public that seemingly loves and accepts her for who she is. It's truly a fairytale. Some are saying, "We have a sister in the palace!"
During the ceremony, I couldn't help but tear up. Not only because someone of color has finally married into the British monarchy, but because of how loved Meghan is. How accepted and cherished she is. When the car carrying her and her mother drove down that long, winding road to the church, the people on the streets cheered and waved.
The way her mother looked on as the two stood there, about to take their vows was everything! She appeared to be holding back tears, smiling on lovingly, proud of the daughter she raised and loves. It was such a beautiful ceremony. I got so lost in the moments of the way Harry and Meghan looked at one another. Everything about it was so breathtaking and her dress so elegant.
I was excited about the wedding because it's escapism. It's good news in a world of bad news. The royals might not matter, but in seeing a mom watch on as her daughter marries a prince, we got a beautiful love story about two people who in any other decade or century, could not have gotten married. And for little girls of color, that is a true fairytale.