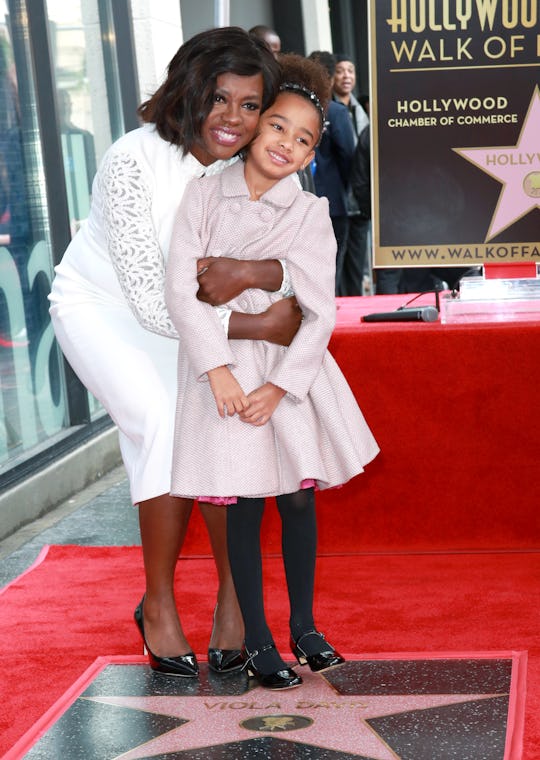 Jonathan Leibson/Getty Images Entertainment/Getty Images
Viola Davis' Daughter Kills It In 'Wonder Woman' Throwback Costume
Viola Davis is the mom we all need right this very minute. Not only is she just a general bad ass and consistently fabulous actress in general, but she's also killing it as a fan mom. And fan moms are basically the best moms in the world, period. There is this photo of Davis' daughter as Wonder Woman circulating around the internet as we speak, and it's the best thing ever. Unless you thought you had the best Wonder Woman look down pat, in which case you are going to find yourself sorely disappointed.
The How To Get Away With Murder actress is apparently super pumped to be seeing Wonder Woman this weekend, much like the rest of us fan moms. She's a fan of superheroes in general, as she told People's editorial director Jesse Cagle last summer, but her adoration of Wonder Woman hits a whole other level.
I grew up trading comic books. Wonder Woman was my hero, that was it for me. I just thought to myself because I was bullied growing up, I said, 'If I could be Wonder Woman I could take care of all the bullies, and I could be cute doing it,' and so that's it.
In preparation for seeing Wonder Woman this weekend with her daughter Genesis (you're correct, that's the best name for a superhero-in-training that has ever existed), Davis shared this killer throwback photo on Instagram on Wednesday:
I can barely stand it. The pose, the look on her face, the movie-quality costume. And the hair! Davis captioned the fierce photo:
Genesis at 2 almost 3. She wanted to keep her fro. #WonderWomanWe're ready!!! #TBT
Wondering if Davis and Genesis saw the movie on opening day? Well, that was the plan, my friends. She told People last August:
By the way, I'm going to be there first day, opening day of Wonder Woman, absolutely, hands down.
Davis' daughter Genesis killed it as Wonder Woman (no offense, Gal Gadot, I thought you really killed it too), and now little girls all over the country are discovering the joys of dressing up as Wonder Woman. It seems Genesis started a trend.
Not only does Viola Davis encourage her daughter to dress as a badass female heroine, she plays a badass in the movies herself.
Davis played Amanda Waller in Suicide Squad, the so-called "Ice Queen" handler of the dangerous anti-hero group. Sure, she doesn't really get to wear a killer costume of epic Wonder Woman proportions, but she doesn't suffer fools gladly. She's fearless, and intelligent.
Like I said, Davis is the mom we all need right now. The kind of mom who takes her comic book lessons in ass-kicking seriously.