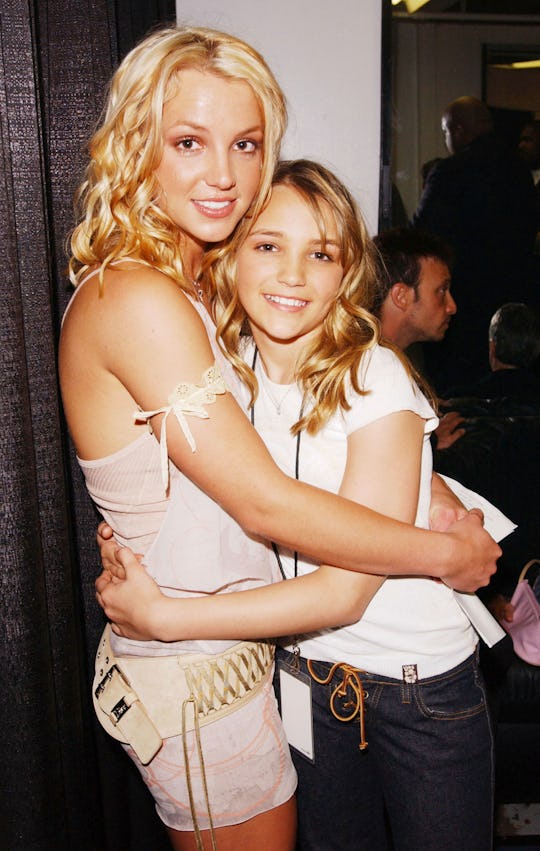 Frank Micelotta/Getty Images Entertainment/Getty Images
This Pic Of Britney & Jamie-Lynn Spears With All Their Kids Proves Their Bond Is Tighter Than Ever
Everybody has celebrity families they root for, whether you're in the Kardashian camp (I desperately wanted to write "kamp" because, you know, the "k" thing) or a you're counting on the Duggars, you probably have someone. Siblings you've watched grow up or grew up with who you just really want to see happy. And while I'm not "Leave Britney alone!" level pumped to see this pic of Britney and Jamie Lynn Spears with all their kids together, I have to say it gave me a little boost. Because they look happy, relaxed, and dare I say it? Just pretty damn normal. And an obnoxiously smug part of me was like, You know what? Good for them.
The two sisters got their clan together to celebrate the birthday of Jamie Lynn's oldest daughter Maddie, who turned 10 on Friday. They were joined by the Toxic singer and her two sons, 12-year-old Preston and 11-year-old Jayden James, as well as Jamie Lynn's 2-month-old baby girl Ivey. Rounding out the group was their older brother Bryan and his daughter Sophia.
So here is what I love about this photo; it's not perfect. They crowded everyone in on the sofa together at Jamie Lynn's house, much like everyone else in the world does when they're trying to figure out how to get a group pic with kids involved.
But everyone looks so darn happy. Also please take a moment to check out the hair on baby Ivey, born on April 11.
And if that picture of the Spears siblings and their kids wasn't adorable enough for you, please see this video of the whole family singing "Happy Birthday" to Maddie at a restaurant that her mom shared on Instagram.
The two sisters have a long history of being in each other's corner, of course. In fact, when the former Zoey 101 star got pregnant at 16, her older sister Britney was there for the birth of her niece Maddie. She told OK in 2008:
That was special, but it was also strange because she's always been the baby, and now the baby was having a baby. It was mind-boggling. I was shocked a little bit. But it was really cool, and she was happy. When she got to the hospital, we all thought it was going to be an all-day thing, and instead, the baby just sort of popped out. 'OK, we're happy now!'
Their special bond with each other is actually one of the reasons Jamie Lynn wanted another baby, as she told People in May:
Me and my sister are 10 years apart, and Maddie and Ivey are 10 years apart, so I'm hoping they have the same kind of relationship where it was like a second mom, almost. It's gonna be a special relationship. Sisters are something special — especially when there's that age gap there.
Despite being 10 years apart, Jamie Lynn and Britney have pretty similar lives. Both are singers and actresses (remember when Jamie Lynn played Britney's younger self in the 2002 cult classic Crossroads?) and their older children are all just one year apart. Sure, Jamie Lynn lives in Nashville with her husband Jamie Watson and her two daughters while Britney spends her time in Las Vegas where she has a residency, but they make time for each other. As Britney told OK in that same interview when Jamie Lynn welcomed Maddie 10 years ago, ""I'm sure the boys will be like big brothers to Maddie."
And from the looks of these pictures of their families hanging out together, it looks like she was right.