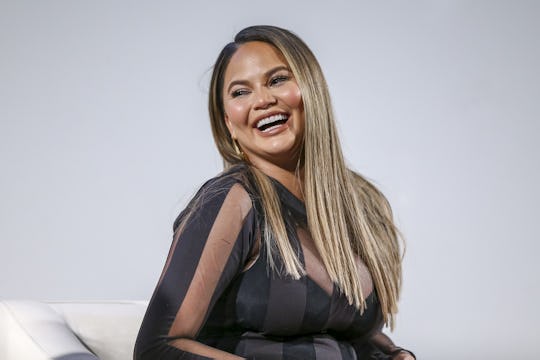 Rich Polk/Getty Images Entertainment/Getty Images
This Pic Of Chrissy Teigen Breastfeeding Her "Twins" Is Truly Priceless
It really shouldn't come as a big surprise that Chrissy Teigen is already nailing it as a mom of a toddler and a baby, which is no small thing in this world. Trying to keep a toddler happy and take care of a baby at the same time is like juggling knives with the sun in your eyes; you never know what's going to come at you and you're always sort of blindsided. But Teigen has figured it out, of course. This pic of Chrissy Teigen breastfeeding her "twins" is just more evidence that she is one of those moms who knows how to roll with whatever comes her way. And that, right there, is the secret to parenting.
Teigen and her husband, "Love Me Now" singer John Legend, are parents to 2-year-old daughter Luna Simone and 2-month-old son Miles Theodore. They've both always been refreshingly honest about their lives as parents and entertainers... although apologies to Legend, Teigen is the true natural born social media influencer in the family. There's something about her particular brand of self-effacing, wry, unapologetic humor sprinkled with empathy and intelligence that truly makes her the best time ever. Case in point; on Saturday she shared a picture of herself breastfeeding "twins," one of them being her son Miles and the other a doll of Luna's, who was busy trying to cover her with a blanket. She captioned the photo: "Luna making me feed her babydoll so I guess I have twins now."
In my opinion this is next-level parenting. First of all, the Lip Sync Battle host has been indoctrinated into the world of being bossed around by a 2-year-old, which any mom of a toddler can well appreciate. You can't see Luna's face in the picture, but based on my own personal experiences I'm pretty sure she's giving her mom some sort of quelling stare to make sure she does what she's told. Next, she's full on breastfeeding on Instagram like it's no big deal because it actually is no big deal. Normalizing that whole feeding your baby thing, Chrissy Teigen-style.
I just couldn't love her more, guys.
Teigen might be making breastfeeding a human baby and a baby doll look like a breeze, but she's actually been pretty open about finding the experience a little tough in the past. When Luna was a baby in 2016 she told People:
I just think it's so funny. Sometimes I'm Googling how to do it better. I'm like, 'Is it working? Is it taking? I don't think I'm feeling enough pain.' You just get so confused about how it's supposed to feel, and as hard as anyone said it was, I feel like it somehow managed to be harder.
It's not just the physical act of breastfeeding that Teigen has been open about; she's also gotten real about all the wonderful things nursing a baby does to a lady's boobs. She posted a video of her "veiny" breasts to Instagram Stories in June, according to Glamour, saying "Please look at my veins going to my milky boobs. What is this?"
Thanks be to Chrissy Teigen, the most honest mom of all the honest moms out there.
Although she's not exactly scaring anyone off of the idea of parenting with her honesty; when Paris Hilton saw the Instagram post where Teigen was tandem feeding Miles and Luna's baby doll she wrote on her wall, "You are such a great mother! Giving me #BabyFever!" To which Teigen replied, you are going to be amazing! DoitDoitDoit," according to the Instagram page Comments By Celebs.
Chrissy Teigen isn't just normalizing breastfeeding in her Instagram posts these days... she's normalizing every day parenting.
And this is why she wins the internet every day.