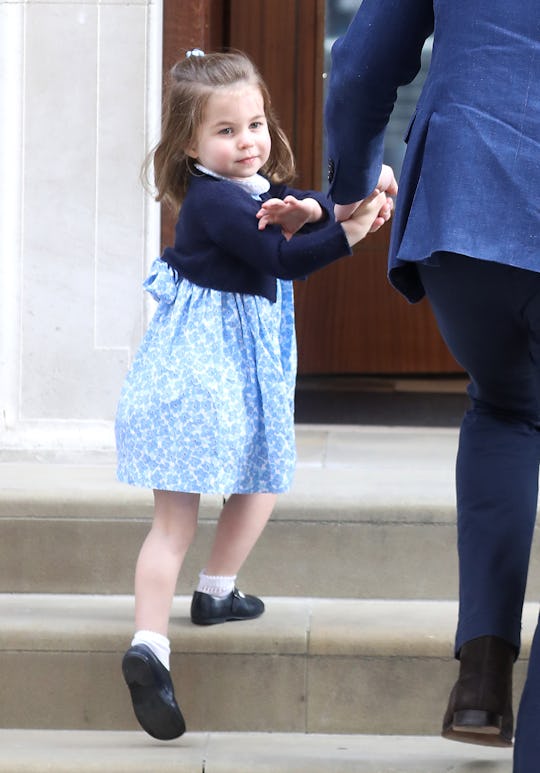 Chris Jackson/Getty Images Entertainment/Getty Images
This Picture Of Princess Charlotte Kissing Prince Louis Will Make You Melt
There's only one thing cuter than a baby; it's a toddler kissing a baby. Especially if that toddler is a super proud big sister who just wants to love up on her baby brother. This picture of Princess Charlotte kissing Prince Louis will melt your cold, cold heart, I promise you.
Kensington Palace shared a picture of the princess planting a kiss on the prince's forehead on Saturday. The sweet snap was taken by the Duchess of Cambridge, who takes most of the official pictures of her three children. According to a press release by Kensington Palace, the picture was taken on May 2, which was Princess Charlotte's third birthday. Big brother Prince George, who is four years old, was not photographed, which means we have that to look forward to. It has been a few weeks since royal watchers have been treated to a glimpse of Princess Charlotte; the last time was during a visit to the hospital to meet her newborn brother alongside Prince George and her father, Prince William, on April 23. The little princess was seen waving at photographers outside St. Mary's Hospital, where her mother had given birth to her baby brother just hours before.
Kensington Palace also shared a picture of little Prince Louis, who was named after his great-grandfather Prince Phillip's uncle, Lord Louis Mountbatten, just days after his birth on April 26. The tweet was accompanied by an official statement from Kensington Palace which read:
The Duke and Duchess would like to thank members of the public for their kind messages following the birth of Prince Louis, and for Princess Charlotte's third birthday.
If the Duchess of Cambridge is ever looking for a part-time job, she should really consider going into photography. Sure, her kids are naturally pretty adorable so she has the raw material to work with (I mean, Princess Charlotte's hair alone) but she's obviously a hugely talented photographer as well. Back when Princess Charlotte was born in 2015, she did a brilliant photo shoot of Prince George kissing his baby sister. And now I think I might want more children if I can dress them up like tiny royal babies.
Kate Middleton studied art history at the University of St. Andrew's (where she met her husband, Prince William) and is the patron of London's National Portrait Gallery. Earlier this year the Duchess wrote of her love for taking pictures, particularly pictures of children, in the foreword for the exhibition Victorian Giants: The Birth Of Art Photography:
Children held a special place in the Victorian imagination and were celebrated for their seemingly boundless potential. This notion still rings true for us today and it underpins much of my official work and the charities I have chosen to support, and, indeed, my role as a young mother.
She certainly has a willing subject in little Princess Charlotte, who is an Instagram page unto herself in her teeny cardigans, patent leather Mary Janes, and shiny, shiny hair.
As Prince Louis continues to grow, the different photo possibilities are endless. We still haven't seen a picture of Prince George and his baby brother, and all royal watchers know that Prince George is just about the sweetest little boy on two legs so not going to lie, really looking forward to that.
Then there's the possibility of both parents with the baby, then the whole family. And oh my goodness, maybe even a shot of Meghan Markle, Prince Harry and the baby?
I don't want to rush the Duchess or anything, but if she could keep those sweet pictures coming, that would be great.