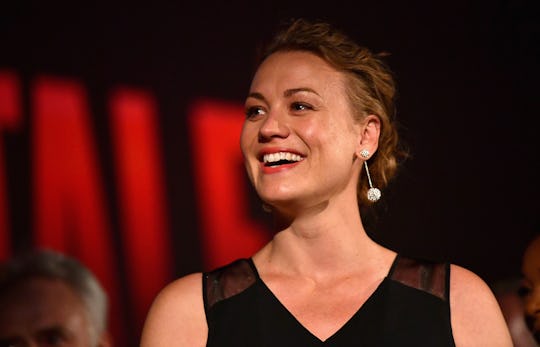 Emma McIntyre/Getty Images Entertainment/Getty Images
Oops — Pregnant 'Handmaid's Tale' Star Lets Baby's Sex Slip On Emmys Red Carpet
The 2018 Emmys is already turning out to be an exciting event. Case in point: At the awards ceremony on Monday, this pregnant Handmaid's Tale star accidentally revealed her baby's sex while chatting with E!'s Giuliana Rancic. Oops.
Yvonne Strahovski, aka Serena Joy on the Handmaid's Tale, announced her first pregnancy back in May. Many fans of the show were thrilled for the actress, to say the least, and plenty of people expressed interest about the baby's sex.
Although Strahovski decided to keep the important info under wraps in the months following the announcement, she let the news slip during an Emmys red carpet conversation with Rancic. "I'm just gonna hold him in there hope for the best," Strahovski shared when asked about the pregnancy, according to E! News.
Did you catch that pronoun, folks? Yep, Strahovski is having a boy! Praise be.
But in a funny twist, Rancic didn't note the low-key reveal the first time around. After the red carpet host pressed Strahovski about the sex, she joked, according to Us Weekly: "I just let it slip earlier didn't I? Breaking news!"
Tim Loden, Strahovski's husband of a year, joined in on the fun too. "It's out!" Loden quipped to Rancic, according to E! News. "If it changes, we'll let you know." Ah, Strahovski's man has jokes.
Luckily for Strahovski and Loden, they won't have to wait much longer to hold their little guy because he's due "any day" now, according to People. Aww. It sounds like September is set to be a thrilling month for the couple.
Speaking of excitement, it sounds like Strahovski's life will be pretty hectic for the foreseeable future. Want some proof? Season 3 of Handmaid's Tale starts filming soon, right around Strahovski's due date.
"I'm due for a break. It's been a little bit nonstop, and as my pregnancy carries on, I probably should take a break and buy a crib and do those baby things," Strahovski confessed to Vogue Australia in July about her busy life. I've got to go home and focus on my peanut."
But as much as Strahovski is feeling a bit overwhelmed these days, she wasn't willing to miss the Emmys. It makes sense when you consider Strahovski's work on Handmaid's Tale earned her a nomination for Outstanding Supporting Actress in a Drama Series.
"THANK YOU TELEVISION ACADEMY FOR THE EMMY NOMINATION I AM BEYOND THRILLED!!!!" Strahovski tweeted about the nomination in July. "AND A MASSIVE CONGRATS TO ALL MY HANDMAID'S FRIENDS FOR THE NOMS WOW WHAT A MORNING!!!!!"
Happiness about the nomination aside, Strahovski admitted her plan to attend the Emmys is a bit of a gamble, telling The Sun Herald:
I am nervous and excited and all of the above. Mainly excited to be able to share the day with my husband and my parents, who will be in the country, but probably more nervous about going to the Emmys nine-and-a-half months pregnant.
The good news is Strahovski has a ton of support from fans to see her through the Emmys and her final days of pregnancy.
"Congratulations on your pregnancy. You're gonna be a amazing mom to your first baby," a fan tweeted on Sunday. "U r looking amazing Yvonne Strahovski."
Another person chimed in: "You rock mama."
"Sooo beautiful!! I wish you luck on your delivery girl," one commenter wrote.
Wow, it's clear Strahovski and her baby boy are surrounded by so much love. It's truly heartwarming to witness.
Although I bet Strahovski didn't intend to let the baby's sex slip in the final days of her pregnancy, her accidental reveal makes this moment even more thrilling for fans. And on that note, here's to Strahovski's little man and a safe delivery — you got this, mama.