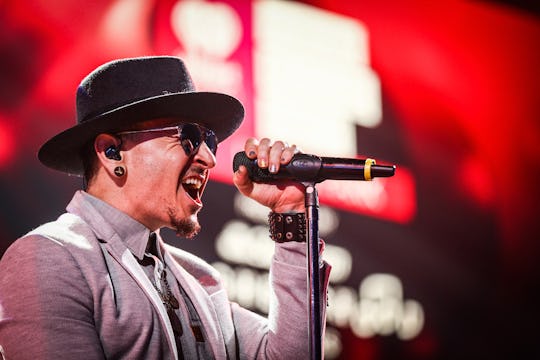 Rich Fury/Getty Images Entertainment/Getty Images
Chester Bennington's Daughter Asked The Most Heartbreaking Question About His Death
Losing a parent is always tough, especially for young kids. Their minds, still so full of possibilities and a future spread out before them wide as the sky, are not built to imagine such a monumental loss. It must feel impossible. And so some children try to re-frame the tragedy. Invent a solution or a world where loss makes sense to them. And this question Chester Bennington's daughter asked about his death is a heartbreaking example of just that — a little girl who has lost her dad, and is trying to make sense of it all in her own way.
Lily Bennington is the 6-year-old daughter of former Linkin Park frontman Chester Bennington and his wife, Talinda. Bennington committed suicide on July 20, leaving Lily and her twin sister Lila behind, along with their 11-year-old brother Tyler and three other children of Bennington's from previous relationships.
It has been nearly a month since Lily's dad committed suicide. A month to grieve, to try to understand a concept far too complex for the mind of a 6-year-old. Bennington struggled for years with substance abuse issues, and had reportedly been devastated by the recent suicide of his good friend, Soundgarden frontman Chris Cornell, in May (Bennington's own death happened on what would have been Cornell's birthday). Of course, a little girl wouldn't be able to make sense of any details, and so she asked her mother this poignant question:
Is daddy on tour in our hearts?
As a mom myself, I can't imagine how much Talinda Bennington is struggling to keep things together for her kids. And how hard it would be to answer a question like Lily's, especially when she is probably overwhelmed with her own grief. A week after Bennington's suicide in his Palos Verdes Estates home, Talinda shared this statement about what their family's life looked like in the aftermath:
One week ago today, I lost my soulmate and my children lost their hero-their Daddy. We had a fairytale life and now it has turned into some sick Shakespearean tragedy. How do I move on? How do I pick up my shattered soul? The only answer I know is to raise our babies with every ounce of love I have left. I want to let my community and the fans worldwide know that we feel your love. We feel your loss as well. My babies are so young to have lost their daddy. And I know that all of you will help keep his memory alive. He was a bright, loving soul with an angels voice. And now he is pain free singing his songs in all of our hearts. May God Bless us all and help us turn to one another when we are in pain. Chester would've wanted us to do so.
According to Kids Health, one of the most important ways children cope with the death of a parent is being encouraged to remember. The person who loved them, the person they lost. Don't avoid the topic, and let them talk about the parent they lost as much as they want.
And, in the case of little Lily Bennington, it's clearly important for her to imagine her father "on tour in our hearts." Her mother's response, as she wrote on Twitter, seemed to be note-perfect:
Yes, my sweet baby, he is.