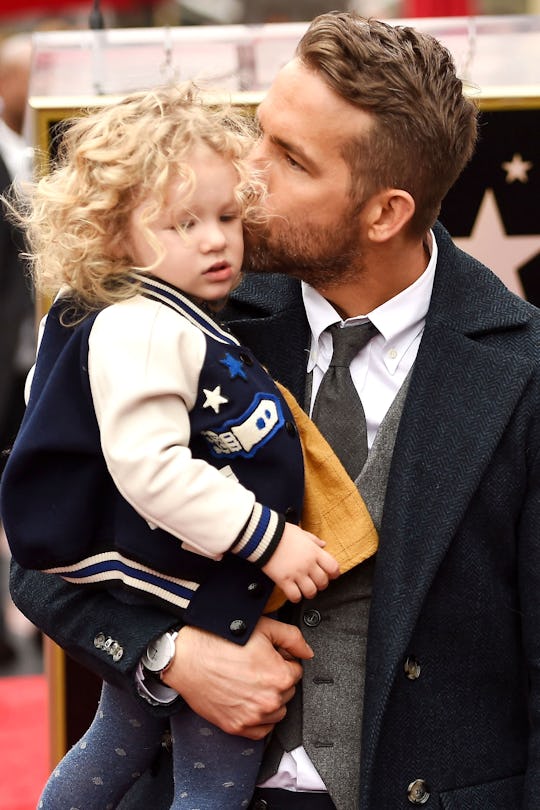 Matt Winkelmeyer/Getty Images Entertainment/Getty Images
This Quote Proves Ryan Reynolds Is The Feminist Dad Of Our Dreams
There was a time in my life when my movie star crushes were based largely on shoulders and sunglasses. Also, dancing abilities and maybe smiles. These days? My celebrity crushes are feminists, and they're proud of it. Take Deadpool star Ryan Reynolds, for instance. His wife, the ridiculously sublime Blake Lively, spoke to Glamour about her husband and daughters recently. It turns out her husband isn't just super gorgeous; Reynolds might just be the feminist dad of our dreams.
Lively opened up to the magazine about what it's like to raise two daughters with Reynolds. I'm warning you now: if you were jealous of her flowing blonde locks and easy-breezy California girl perfection before... these details probably won't help matters much. It seems Reynolds is laser-focused on raising their daughters (two-year-old James and 10-month old Ines) to be powerful, strong women. The former Sisterhood of the Traveling Pants star told Glamour:
I'm lucky to have someone who is so conscious. My husband was like, 'Why do I always say he?' And I said, 'That's what we're taught.' So he'll pick up, like a caterpillar, and instead of saying, 'What's his name?' he'll say, 'What's her name?'
I know — it's a bitter pill to swallow. Handsome, charming, and a feminist to boot. What the heck happened to Van Wilder?
Editor's Note: The Instagram post has since been deleted.
Lively, who met Reynolds on the set of Green Lantern in 2010 and married him in 2012, went on to say that her husband is dedicated to raising strong, fearless daughters... and woe betide the person who ever uses the "B" word around them. When Lively apparently joked that oldest daughter, James, was "bossy:"
My husband said, "I don't ever want to use that word again. You've never heard a man called bossy." There would never be any negative connotation for a man being a boss, so to add a negative connotation on a woman being bossy? It's belittling. And it doesn't encourage them to be a boss.
So many heart-eyes.
This isn't the first time Reynolds has been openly on the side of strong women. When Wonder Woman topped Deadpool at the box office this spring, Reynolds took to Instagram to share his admiration for the kick-ass superhero with his 13 million followers. He captioned his photo:
The Merc May Be Filthier, but Her B.O. is Stronger. Congrats #WonderWoman #BoxOfficeBoss
It seems he and wife Lively are committed to raising little wonder women of their own. Lively shared some parenting words of wisdom with fans:
We're all born feeling perfect until somebody tells us we're not. So there's nothing I can teach my daughter [James]. She already has all of it. The only thing I can do is protect what she already feels.
Preach.