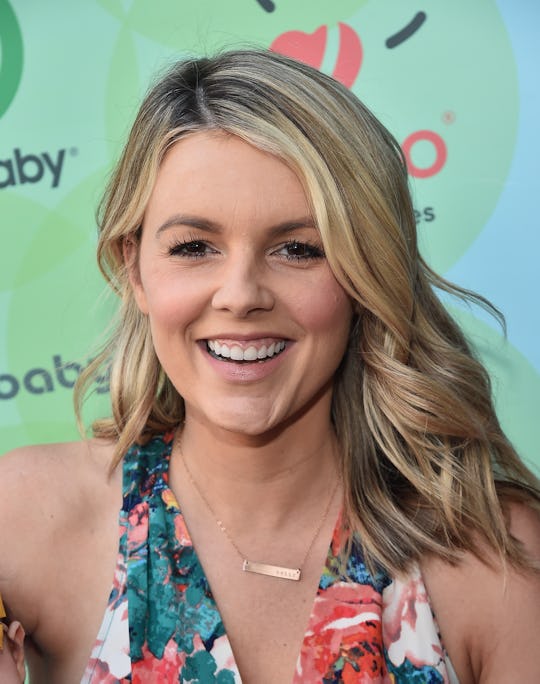 Alberto E. Rodriguez/Getty Images Entertainment/Getty Images
This Reality Star Got Candid About New Motherhood
Life for a new mom can be incredibly tough. In between caring for a tiny human and their own needs, new moms also have to adjust to their changing bodies and hormones. When you add up all the new pressures a new mother can face, it's no wonder why so many first time moms often feel exasperated. Fortunately enough, more moms, including celebrities, are sharing honest and relatable stories about navigating motherhood for the first time. One of those moms is reality star Ali Fedotowsky-Manno, who admitted she suffered a "mental breakdown" shortly after becoming a new mom to her daughter Molly Sullivan Manno.
As a reality star and former Bachelorette, it's no surprise Fedotowsky-Manno is an open book. In the August issue of Fit Pregnancy, Fedotowsky-Manno got super candid when discussing the difficulties of being a new mom. Although Fedotowsky-Manno found herself helplessly in love with Molly when she and her husband Kevin Manno welcomed her into the world in July 2016, she said she wasn't prepared for the realities of childrearing, according to Fit Pregnancy.
Fedotowsky-Manno said, according to Fit Pregnancy:
Motherhood, in every single aspect, is harder than I thought it would be. Kevin and I knew it would be a challenge, but we had this very romanticized version of how it would be. Like, 'Oh, we'll have this beautiful little human who's going to look like both of us who we're going to love so much.' That's true, but I don't think I sat back and thought about how hard it is being a parent. Everyone tells you, 'Your life is going to completely change,' but no matter how many times I heard that, I couldn't have possibly prepared myself.
Once Fedotowsky-Manno realized raising Molly wouldn't be as easy as filming an episode of the Bachelorette (Chris Harrison never stopped by to offer her a champagne break), things got real. To make matters even more tough for Fedotowsky-Manno, she decided to be the only one to care for Molly for the first eight months of her life. Feeling overwhelmed and isolated, Fedotowsky-Manno eventually suffered a "mental breakdown," according to Fit Pregnancy:
For the first eight months of Molly's life, we never had anyone else watch her not even a family member. After months of no breaks and little sleep, I legit had a mental breakdown. I remember I was in our kitchen, crying to Kevin on the phone, saying, 'I can't do this anymore. I need help.' I was holding Molly. She was screaming. I was screaming. It was like out of a movie — I lost my mind.
Obviously, this is a feeling a lot of moms can relate to. If you Google the words "new mom" and "breakdown," you'll come up with countless articles and personal essays on the subject. Although it's good to see more and more women attempting to shatter the hurtful and even misogynist expectation that new moms can and should do it all, it's clear there's still a lot of work to do in supporting first time mothers.
As Fedotowsky-Manno's realized herself, new moms shouldn't be afraid or ashamed to ask for help. After a new mom gives birth, she needs a proper amount of time to rest and recover. During this time, it's critical moms reach out to their partner, family members, or friends for additional help (but that's easier said than done).
Debra Woods, an experienced postpartum doula, recommends being "specific," with your to-do lists, according to Today's Parent. If you're a mother going it alone, Woods recommends consistently praising yourself for just getting through the day, as that in itself is an admirable accomplishment, according to Today's Parent.
Asking for help isn't always easy, especially when you're the type of person who doesn't want to appear weak or anything less than perfect. As Fedotowsky-Manno realized, however, refusing help can be a slippery slope. If you're one of the lucky moms with a great support system, take advantage of it. If you're a new mom going it alone, remember to be kind and patient with yourself.