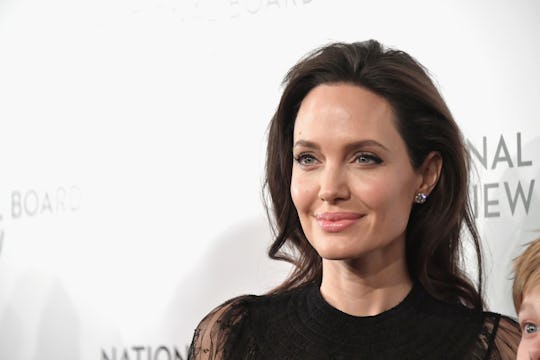 Mike Coppola/Getty Images Entertainment/Getty Images
This Recent Photo Of Shiloh & Zahara Jolie-Pitt With Their Mom Will Make You Feel So Old
Angelina Jolie doesn't really "do" Hollywood so much these days, but when she does show up at an awards show, of course fans are excited to see her. Especially when she shows up with any of her children in tow; there's something about her family that has people seriously invested in them. I'm thinking it's because so many of us have watched them grow up. And they are definitely growing up; this recent photo of Jolie with Shiloh and Zahara will make you feel like you're around 1,000 years old. Because honestly, weren't they toddlers about three seconds ago?
Jolie hit the red carpet for the National Board Of Review Annual Awards Gala on Tuesday with her two daughters (11-year-old Shiloh's twin sister Vivienne was absent), and they looked like they were having the time of their lives. In fact, I would say Jolie tends to look more at home and comfortable with her kids than she does at any other time. Proving that having great kids means you have the perfect date for the rest of your life. The mother of six and her daughters were joined by American human-rights activist Loung Ung, who also attended The Golden Globes on Sunday alongside Jolie and her second oldest son, 14-year-old Pax. Jolie's daughters came along to support their mother as she won the National Board of Review's Freedom of Expression Award for her film First They Killed My Father.
And honestly... how they managed to grow up so quickly is a total mystery to me.
In the words of Chandler Bing; could the Jolie-Pitt ladies be having any more fun?
Here's a little reminder of what they looked like when they were little... because some of us might need a weepy trip down memory lane with these two young women.
Here they are at the Kid's Choice Awards in 2015, when Jolie won the Best Villain Award for her role as Maleficent (as a side note, her contouring in the Disney movie should have won its own award... those cheekbones).
And here they are Christmas shopping in 2010 in London, England. Now I'm going to write an entire article about Shiloh's jacket. Also can I just talk about the fact that Shiloh is super excited to be carrying a sword? And finally... Zahara's cheeky little grin. You can see oldest brother Maddox under his furry hat in the background.
Then there are these amazing flashbacks.
It's wonderful not only to see Jolie's daughters supporting their mom, but also looking so happy. Even Shiloh's recent snowboarding accident on a family vacation that left her with a broken arm wasn't enough to mar their massive smiles. Zahara might have been especially excited to be hitting the red carpet, considering she turned 13 on Monday.
Their smiles were great to see, considering the tough times the family has been going through over the past few years. Jolie split from the children's father, Brad Pitt, after 12 years together in 2016, and the separation was reportedly fairly acrimonious. But let's face it — every time parents break up it's tough on kids, acrimonious or not. And the Jolie-Pitt children have had to deal with their family's struggle being in the news.
Whatever is happening in their personal lives, here is one thing we know for sure; Zahara and Shiloh Jolie-Pitt are looking ridiculously grown up. And if those pictures of the two sisters goofing around on the red carpet with their mom are anything to go by, they're also remarkably confident young women. Happy enough to support their mom and pose for pictures.
Happier still to be having a night out together.
Check out Romper's new video series, Romper's Doula Diaries:
Watch full episodes of Romper's Doula Diaries on Facebook Watch.