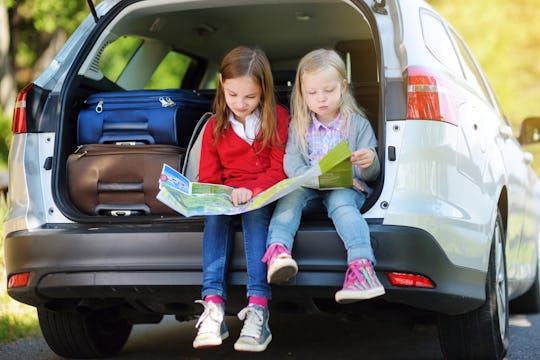 MNStudio/Shutterstock
Don't You Dare Start Your Road Trip Without These Essentials For Your Kids
Taking a road trip with kids can be one of the most fun activities for families to enjoy together. Living in Texas, our family has often criss-crossed the state, our mini-van filled to the brim with everything we could possibly need for our kids. The trip itself is often a blast, but the stress of preparing for it often makes me to want to pull all of my hair out. While I have more than 30 years of experience packing my own things, knowing what to pack for kids on a road trip is still tricky sometimes.
Sitting in a car for hours on end can seem boring to kids. My biggest worry while traveling is how to keep my kids entertained. I hate to listen to their complaints of boredom while trapped in an enclosed space. So keeping my kids occupied while on the road is a must.
But staving boredom is only part of the road trip preparation battle. Packing things that will help keep them comfortable while on the road is another worry of mine. Blankets, neck pillows, and snacks are all essentials when I start considering what is worth loading up for a road trip with kids. But travel blogger Kristen Maxwell of Kids Are A Trip travel blog says her top suggestion for parents is to pack their patience. "It can be a long ride, but as long as you have fun with it, time will fly by," she tells Romper. Here are some other ideas to consider when packing for kids for a road trip.