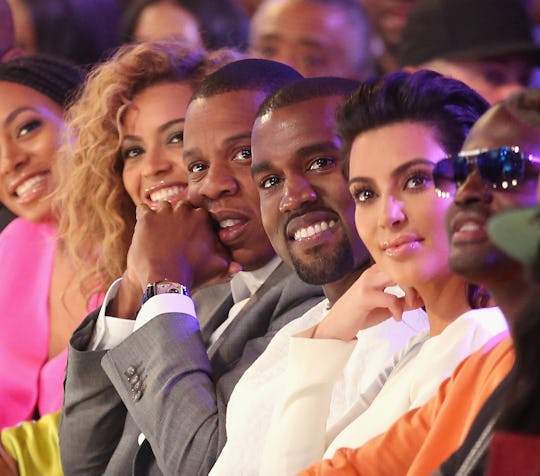 Christopher Polk/Getty Images Entertainment/Getty Images
Rumors About Beyonce & Kim Kardashian Need To End
The world has learned a lot of things from JAY-Z's recently released album, 4:44, one being that his one-time friendship with Kanye West has almost certainly totally soured. In "Kill JAY-Z," the rapper called out West for his public rant about him and wife Beyoncé during a concert last year, according to Page Six, and the two men haven't hid their animosity toward one another since. Yet headlines continue to speculate that somehow, it's really all their wives' fault, and this rumor about Beyoncé and Kim Kardashian frustratingly pits women against women in the most unfair of ways. Although it might be entertaining, it's honestly way beyond time we gave it up.
Gossip surrounding the state of Beyoncé and Kim Kardashian's friendship (or lack thereof) is certainly nothing new. For years, the rumor mill has churned with stories about the two women being supposed frenemies, and so it wasn't exactly surprising (although it was totally sad) when a big focus of the social media response to Beyoncé's twin pregnancy announcement earlier this year was whether Kardashian was majorly pissed about it. But the latest rumor is even more petty: According to Heavy, reports have suggested that Kardashian recently sent Beyoncé gifts for her twins, but that Beyoncé refused to accept them. And even though the rumor is completely unsubstantiated — not to mention ridiculous — the fact that so many people seem to enjoy it says a lot about the way we view women, and their relationships with one another.
Celebrity gossip has of course always been popular, and it's easy to see why the Beyoncé vs. Kim K "feud" has become so intriguing: they're both massive stars with huge fan followings, and they both seem to live larger-than-life, super glamorous lives. What's more though is that, unlike Beyoncé, Kardashian's fame is mostly due to her social media success and her family's reality show, which basically makes her the perfect "love-to-hate" celeb. As much as the public may have been eager to raise her up to fame and fortune, they're also often just as eager to tear her down.
The fact that both women happen to be married to hugely successful rappers who once seemed tight both personally and professionally at some point gave way to the expectation that, for some reason, Beyoncé and Kardashian were supposed to become super bestie BFFs. The reality, of course, is that there are countless reasons why they wouldn't end up being close friends that have absolutely nothing to do with them hating one another, but the possibility that they might be jealous or competing with each other seems to be much more interesting. And just to stir the pot a little more, unnamed sources have suggested that it's been a big problem: according to Page Six, a source has claimed that "Kanye is frustrated that his wife does not have a better relationship with Beyoncé," and that it's what has really been at the source of the two men's rivalry.
But is it fair to assume that the JAY-Z/Kanye West bust-up is really all because Beyoncé may or may not want to hang out with Kim Kardashian? Isn't it more likely, for example, that the two men had issues in their own friendship — and likely also in their working relationship, as evidenced by the fact that, according to Billboard, West has reportedly terminated TIDAL's exclusivity rights to his work due to a dispute over millions of dollars the rapper said was owed to him? Not to mention the fact that, West certainly seemed to be dealing with some pretty heavy personal stuff at the time of his infamous concert rant: according to The Guardian, the rapper canceled his tour shortly after and checked himself into UCLA Medical Center for what was referred to as a "psychiatric emergency."
It's possible, of course, that Beyoncé really does dislike Kardashian, but even if that were the case, the amount of attention their supposed feud receives seems excessive. In an appearance on Watch What Happens Live With Andy Cohen earlier this month, Beyoncé's pal La La Anthony was asked about the singer's buzzed-about "push party," according to Us Weekly, which celebrated the upcoming birth of her twins. It sounded like a totally love-filled bash, yet, Anthony was asked why Kardashian wasn't there (why would she know?). And, when TMZ first reported last month that Kardashian and West would be using a surrogate to have a third child, it wasn't long at all before rumors buzzed that the move was an effort to "steal Beyoncé's thunder," following the birth of her twins (not, you know, a very serious and difficult decision made because Kardashian and West actually want to expand their family and Kardashian's medical history has meant that a third pregnancy could literally put her life in danger).
Whether you're a fan of either women or not, the catfight narrative surrounding their relationship is totally lame — not to mention that it has actual implications for other women and our collective wellbeing. There is already so much work that still has to be done to elevate women to a place of greater equity, respect, and inclusion (especially when it comes to race and sexual identity/orientation), that supporting each other and helping to raise each other up is pretty much a necessity. Yet jokes and rumors about women feuding, competing, backstabbing, and shaming one another completely work against our own best interest.
It might seem harmless to make a joke at Kardashian's expense — she's just a super rich celebrity, what does it matter? But reveling in her possible pain (or any other woman's, for that matter), just perpetuates unfair and harmful ideas about what it takes for women to succeed. Kim Kardashian may or may not have sent presents to Beyoncé, and Beyoncé may or may not have accepted them, but either way, it doesn't really matter. If they aren't friends, then they have the right to be, just like any other people who have ever decided, for one reason or another, that they didn't click. And the rest of us would likely be much better off if we stopped judging them for it.