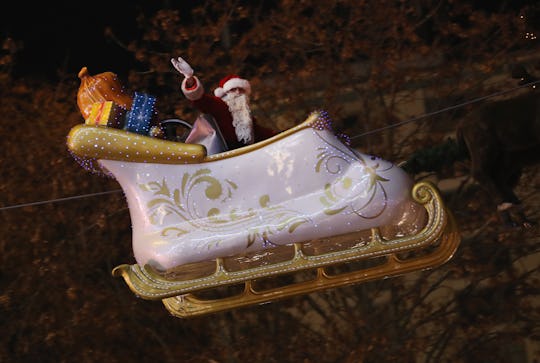 Sean Gallup/Getty Images News/Getty Images
This Santa Got On The Floor To Hang With A Kid With Special Needs, & It's Amazing
Here's the thing about Santa Claus; so many kids are frightened of him while loving him all at once. It can be confusing for the most confident of kids to visit with Santa Claus, sit on his lap, give him their Christmas list of wishes and then go about their day like nothing happened. But imagine if a child struggles with social issues. Or a child has special needs. Their need to connect with Santa Claus is just as strong, but their fear can be even stronger. Which is why the sight of this Santa getting on the floor to hang out with a kid with special needs will warm your cold, stone heart. It's a reminder that the smallest kindness, the simplest of gestures, can change the world for a child. And also turn me into a bag of tears.
All Alison Epps wanted to do was get that typical picture of her 6-year-old son James sitting with Santa Claus. The two visited Santa during a special sensory-friendly night to visit Santa at the Restoration Community Church in Spring Hill, Tennessee, and James was feeling anxious. According to a Facebook post Epps shared on the Love What Matters page, James was born early and is challenged by a few things when it comes to interacting with people. She was worried those challenges would keep him from meeting with Santa... but Santa himself was having none of it. When James hesitated, Santa climbed down on the floor to make him more comfortable. And a beautiful picture followed.
Epps wrote on the Facebook page:
We were super hopeful...we had a child who wanted to meet Santa and almost perfect circumstances for that to happen, but we still didn't get that sweet, sitting in Santa's lap photo. What we got was pretty perfect though. So thankful to Santa for meeting James exactly where he was comfortable...on the floor. Santa didn't hesitate for a second. He joined him right there and did everything he could to make it a magical moment for my sweet boy. I love the magic this time of year brings, and I especially love experiencing it through the eyes of my child.
Across the country, Santas are improvising to make visits from children with special needs more enjoyable for them. More than 180 malls showcased sensory-friendly visits with Santa on Sunday, Dec. 4, for two hours before the malls opened. These visits were quieter and more controlled, offering kids a chance to truly engage with Santa without the added stress of a busy mall hindering their experience.
While many kids were sure to tell Santa what they wanted for Christmas, the simple gift of Santa getting down on the floor with them to talk and play and connect was clearly a beautiful thing.