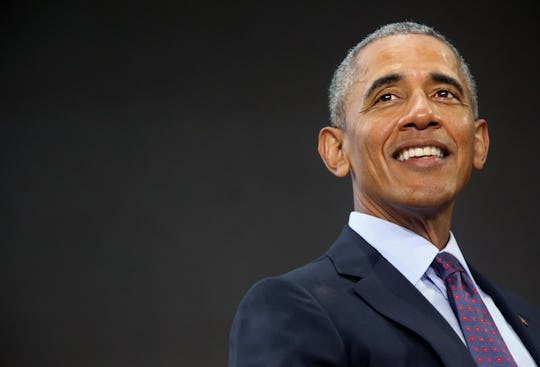 Yana Paskova/Getty Images News/Getty Images
This School Is Changing Its Name To Honor Obama & It's About Time
Back in June, as much of the United States debated the appropriateness of keeping Confederate statues and flags around in a time wracked by racial tension, a study found that nearly 200 public schools around the country were named after Confederate leaders. It was a number that shocked many, and prompted a good number of Americans to speak out against honoring men who supported slavery. As it turns out, that widespread backlash worked: now, one Mississippi school is changing its name to honor President Obama rather than Jefferson Davis, and community leaders are thrilled about the news.
Davis Magnet International Baccalaureate Elementary School announced its decision on Tuesday at a board meeting, making it the first of three schools named after Confederate leaders in Jackson, Mississippi to change its name, The Hill reported. Back in September, the Jackson Public Schools Board of Trustees had handed authority over the schools' names to the parent-teacher associations at each institution, letting them decide whether to keep old names or switch to less controversial names.
A full 97 percent of Davis Magnet's student body is reportedly made up of black students. According to The Clarion-Ledger, Janelle Jefferson, the president of the school's parent-teacher association, told the school board that the community thought it was time to honor "a person who fully represents ideals and public stances consistent with what we want our children to believe about themselves" with the school's name.
The president of the Jackson Public Schools Board of Trustees said she "wholeheartedly" agreed with the new name, the newspaper reported.
Davis Magnet isn't the only school that's brought about a change in its name: in September, the Dallas Independent School District's board of trustees voted unanimously to change the names of four schools named after Confederate generals, according to NBC News. Other schools in Virginia, Alabama, and Oklahoma have started pushing for name changes, as well, and many have removed statues of Confederate leaders from their campuses.
When speaking to the Jackson Public Schools trustees, Jefferson pointed out that Davis himself — president of the Confederate states during the Civil War and a staunch supporter of slavery — would probably have appreciated the name switch.
"Jefferson Davis, although infamous in his own right, would probably not be too happy about a diverse school promoting the education of the very individuals he fought to keep enslaved being named after him," she said, according to The Clarion-Ledger.
The new school name — Barack Obama Magnet International Baccalaureate — will be instated for the 2018-2019 school year. The other two Jackson schools named after Confederate leaders (George Elementary and Lee Elementary) haven't come forward with decisions or replacement names yet, but Davis Magnet's decision could help inspire them to make a choice.
Miguel Solis, a board member of the Dallas Independent School District, told The Independent that efforts to change school names had mostly received "overwhelming support," telling the newspaper:
That's not to say that there haven't been people who have been very upset because they believe either the history needs to be preserved, or they align the philosophy of the Confederacy or neo-Nazis, but for the most part I've gotten support.
According to The Clarion-Ledger, Davis Magnet's announcement of their forthcoming name change brought a celebratory spirit to the board meeting. And while some people may still object to changing schools' names on historical grounds, the wave of success schools have seen in changing their names this year alone seems like a sign of growing support for the movement.
So here's to the soon-to-be Barack Obama Magnet International Baccalaureate for making all of its students feel welcome. Because, especially when it comes to young kids in elementary school, it's important that the next generation knows that their acceptance and human rights come before anything else.
Watch Romper's new video series, Romper's Doula Diaries:
Check out the entire Romper's Doula Diaries series and other videos on Facebook and the Bustle app across Apple TV, Roku, and Amazon Fire TV.