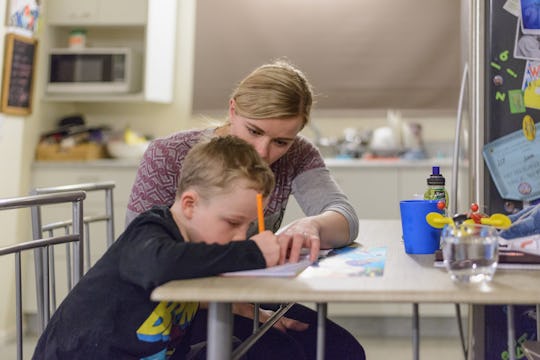 Kai Schwoerer/Getty Images Sport/Getty Images
Why This School District Just Got Rid Of Homework
I have always hated homework. Not school, I pretty much loved school when I was a kid. But homework... nope. It felt out of place, like working out at your desk at lunchtime or something. Ditto for my own kids. They hated it, I hated it, the dog might have even hated it a little, I can't be sure. So when I read about this school district getting rid of homework, I was intrigued. Particularly by their reason for the shift.
Marion County School District in Florida has made the decision to get rid of daily homework assignments for elementary students beginning this fall. Why? They want the 20,000 kids attending the 31 schools in the district to focus on simply reading for 20 minutes a night. They can choose their own reading material, with suggestions from teachers and librarians. Because, as Marion County School District spokesperson Kevin Christian pointed out to Eyewitness News:
When you can read well, everything else comes.
School district superintendent Heidi Maier told The Washington Post the decision was based on research conducted by University of Tennessee education professor Richard Allington, who found that reading on a regular basis helped students perform better academically than homework.
Allington told The Post that simply assigning homework of any quality isn't going to help kids learn:
The quality of homework assigned is so poor that simply getting kids to read replacing homework with self-selected reading was a more powerful alternative. Maybe some kinds of homework might raise achievement but if so that type of homework is uncommon in U.S. schools.
The trend away from traditionally assigned homework has been making news around the world, with countries like Finland all but banning homework for students... and still finding great success. According to a 2009 report by the Organization for Economic Cooperation and Development, Finnish students only have around three hours of homework per week on average. And yet, the country scored sixth highest in the world in 2012 for reading and 12th highest in the world in math. Further, 93 percent of Finnish students graduate from high school (compared to just 75 percent of students in the United States).
Marion County School District superintendent Maier hopes to see similar results with the elementary students in her area. Her edict to encourage children to read for the pleasure of reading with their parents (or, if an adult isn't on hand, audiobooks and volunteers will be made available) for 20 minutes a night rather than doing homework has been met with support from teachers and parents alike.
The only slight glitch? It seems middle school students and high school students in the area aren't included in the homework rollback.
Oh to be a small kid again, right?