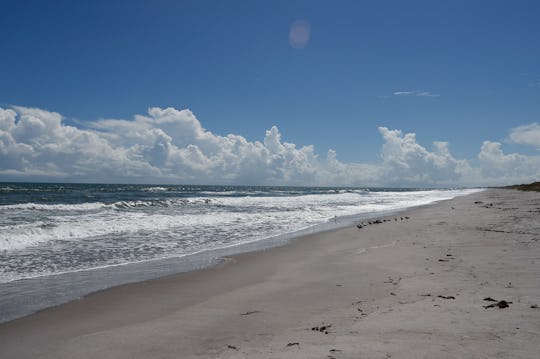 RHONA WISE/AFP/Getty Images
This Skull Radar Hurricane Matthew Image Has People Convinced The End Is Here
Hurricane Matthew is about to hit the East Coast of the United States, mainly Florida, North Carolina, and South Carolina. The storm, which has already wreaked havoc on the Caribbean, has gained in strength as it passed through the Bahamas on Tuesday, with 120-mile-per-hour winds by Wednesday. As people brace for the storm to hit the coast, this skull radar image of Hurricane Matthew could convince some people that the end is nigh.
Weather Channel meteorologist Stu Ostro was looking at the satellite image of the storm on Tuesday morning when he noticed something downright ominous about the storm. What appeared to be a skull... a smirking skull with one eye fixed straight ahead. As if Hurricane Matthew wasn't scary enough. By the time it hits the coast of Florida between late Thursday and Saturday, the tropical storm is expected to be a category 4. Florida Gov. Rick Scott is urging Florida citizens to have an escape plan. According to CNN, Scott said on Wednesday:
I cannot emphasize enough that everyone in our state must prepare now for a direct hit. That means people have less than 24 hours to prepare, evacuate and shelter. Having a plan in place could mean the difference between life and death.
It certainly doesn't help the natural panic of people being asked to leave their homes when the storm looks like a giant skull.
Meteorologist Ostro wasn't the only one to notice the spectre-like image of Hurricane Matthew on satellite. WINK Morning meteorologist Matt Devitt also tweeted about the decidedly ominous nature of the storm as it settled over Haiti.
Understandably, the skull image of Hurricane Matthew has the internet completely freaked out.
While the skull image is super creepy, the truly upsetting effects of Hurricane Matthew will be felt by the people living along the coast of Florida, South Carolina, and North Carolina. South Carolina Gov. Nikki Haley announced that over 1 million people would need to be evacuated from various coastal communities and declared a state of emergency, mobilizing 1,800 members of the National Guard to assist with the evacuation.
Scott has also declared a state of emergency for the worst storm Florida has seen since 2007, and encouraged locals to plan provisions for three days to remain better prepared. Grocery store shelves are reportedly being emptied as people try to stock up, and some gas stations in South Carolina, where evacuations have already begun, are running out of fuel. Traffic trying to escape the path of the storm is bumper-to-bumper on the highways.
It's a terrifying time for people living in those states. And a satellite image of a smirking skull surely didn't help much.