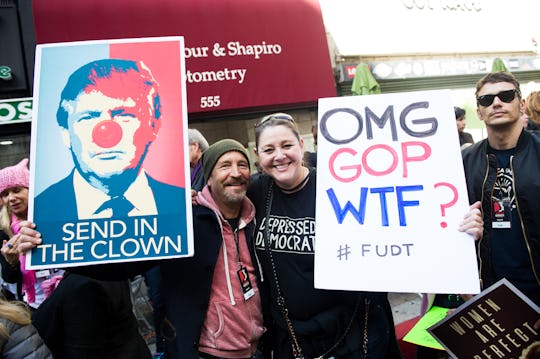 Emma McIntyre/Getty Images Entertainment/Getty Images
This Statement From The 2018 Women's March About Inclusion Makes A Strong Point
As thousands of women around the world prepare to march again this weekend on the anniversary of the Women's March on Washington, a lot of change is to be expected. First of all, this year's marchers have a slightly different agenda than the women who donned their pink hats and marched on Washington to protest the presidency of Donald Trump. This year, marchers are focused on Power to the Polls, energizing women to take leadership roles in their community to affect change. And while the marchers have always encouraged inclusion, this statement from the 2018 Women's March goes one step further.
The organizers of the Women's March, which will be happening in Las Vegas and other cities across the country throughout the weekend, issued a statement on Saturday. The statement acted as a reminder of the core values of the Women's March... and also a warning that not all of the marches being held this weekend are necessarily aligned with the organization. The statement reads in part:
We are proud that the movement ignited one year ago today is strong, loud, and undeterred. It's exciting to see how many people are still eager to organize marches and hit the streets.
However, not all of the marches being organized to commemorate the anniversary share the values and the principles of the Women's March.
The statement went on to note that there had been some "questions about valuing unity in the movement," which brings up an important point, because unity can be defined in many different ways.
To clear up what the Women's March organizers consider the movement's particular litmus mark for unity, the statement continued by acknowledging they "deeply value unity,"
But the unity we strive for is one that centers and takes leadership from the most marginalized communities.
While there are certain to be many different types of marches celebrating the anniversary of the historic Women's March from last year, it's important to know what you're marching for, as the statement from the Women's March organizers pointed out:
There are many different events this weekend that are associating themselves under the "Women's March" banner, but not all of them share the national Women's March commitment to intersectionality.
Unity is the core goal of the Women's March, as shared in their mission:
The mission of Women's March is to harness the political power of diverse women and their communities to create transformative social change. Women's March is a women-led movement providing intersectional education on a diverse range of issues and creating entry points for new grassroots activists & organizers to engage in their local communities through trainings, outreach programs and events. Women's March is committed to dismantling systems of oppression through nonviolent resistance and building inclusive structures guided by self-determination, dignity and respect.
There have been those on social media who have attempted to paint the Women's March as something of a left-wing elitist event, exclusive to privileged white women only. This statement from the Women's March is clearly trying to ensure that all women feel welcome to march, feel empowered and embraced. In fact, the organizers are asking women to "look around" when they're marching, and take note of what's happening around them.
To pay attention to police presence, particularly in "communities of color," to pay attention to accessibility issues for people with disabilities. And consider why these things are happening. Remaining divided by race or sexuality or ability is soon to be a thing of the past, if these marches work.
Because this year, the Women's March is as much about making positive, sustainable changes in leadership and government as it is about marching. The only way forward is to stay informed, stay unified, and stand together.
Check out Romper's new video series, Romper's Doula Diaries:
Watch full episodes of Romper's Doula Diaries on Facebook Watch.