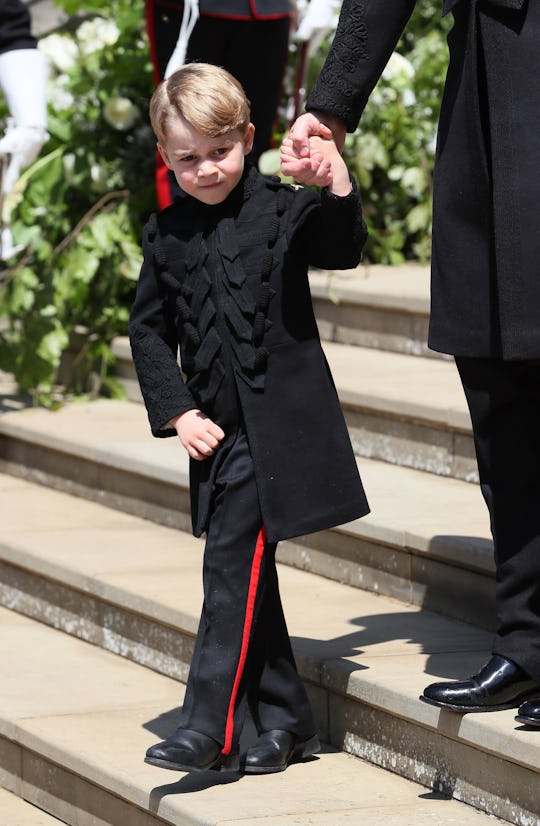 WPA Pool/Getty Images Entertainment/Getty Images
This Story About Prince George & A Crying Bridesmaid At The Royal Wedding Is So Sweet, It Hurts
Weddings can be terribly hard on little kids even when they're not in the bridal party. It's a whole lot of dressing up and being asked to behave yourself, which isn't really high on most kids' resumes. But let's all admit that the Duchess of Sussex's bridal party full of tiny, adorable children had a whole lot of weight on their shoulders on Saturday. Not only were they being asked to walk down the aisle in front of hundreds, there were thousands of people lining the streets outside. So when Prince George reportedly comforted a bridesmaid at the royal wedding, as Harper's Bazaar reported, it was honestly the most gallant thing a 4-year-old prince has probably ever done in the history of everything. And no, I don't think I'm overstating the significance here.
Prince George was one of 10 children at the royal wedding of Prince Harry and former American actress Meghan Markle on Saturday at St. George's Chapel in Windsor Castle. And unlike an American wedding where the bridal party is usually made up of friends and family of the bride and groom, those 10 children were the whole kit and caboodle. And they were young, to boot. The youngest of the bridal party, little 2-year-old bridesmaid Zalie Warren, was apparently really feeling the pressure of being a massive international star for the day.
According to Harper's Bazaar, Zalie Warren (who is goddaughter to Prince Harry) was having a bit of a meltdown pre-wedding. Royal correspondent Emily Andrews, who reportedly was on hand to witness the little girl's bout of nerves, told the On Heir podcast about the circumstances behind Prince George's empathetic gesture:
She started crying when they were waiting for Meghan. It was only a couple of minutes. So Nanny Maria Borrallo kind of looked after her, and George apparently was trying to comfort her as well, which is very sweet.
Please keep in mind that Prince George was in teeny tiny military garb while comforting a little girl. This is the stuff of dreams, my friends. If these two end up getting married some day, this story will be the most wonderful thing to ever happen.
Prince George has considerable experience dealing with social pressure, both as a member of the bridal party and dealing with the adulation of millions of people. He was a page boy at his aunt Pippa Middleton's wedding in May 2017 alongside his 3-year-old sister Princess Charlotte. Oh, and he's also the heir to the British monarchy, so that tends to draw the eye.
Even with his extensive experience as a famous page boy, Prince George was looking a little shy and nervous at his uncle Prince Harry's wedding. He was seen hiding behind his dad, best man and possible future king Prince William, while his younger sister Princess Charlotte seemed to be letting loose as the real belle of the ball.
The little princess — who just welcomed baby brother Prince Louis in April along with her big brother, dad, and mom the Duchess of Cambridge — looked to be having a great time at the wedding. Waving at the crowds, smiling, and apparently bossing all the other kids around. A royal wedding guest told People that Princess Charlotte was keeping the other kids in line without much trouble:
She was really sweet. There was one girl who wanted to go and she said, "No you can't go yet. We have to wait until we are asked." She was really organized!
It's nice to see that Princess Charlotte and Prince George have their roles so clearly delineated; she's the boss and he's the sweetheart, if we're going to be the kind of people who label children. It will be interesting to see what sort of little boy Prince Louis turns out to be... but for now, we can all relax in the knowledge that Prince George is a literal Prince Charming.