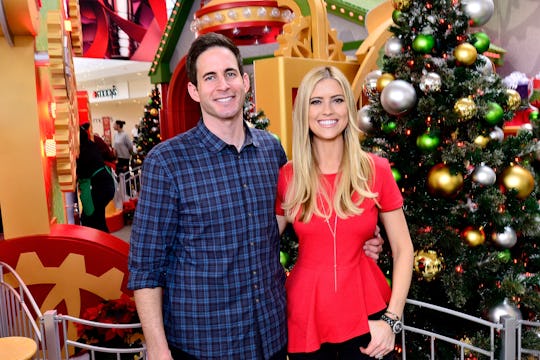 Jerod Harris/Getty Images Entertainment/Getty Images
This Tarek El Moussa Quote About Fatherhood Is Something All Parents Will Understand
Flip or Flop star Tarek El Moussa is still adjusting to life as a single dad following his split from wife Christina El Moussa in May 2016, but it seems pretty clear that his dedication to his children is just as strong as ever. In an Instagram post Thursday, Tarek El Moussa said "being a dad is not easy," according to People, but emphasized that being a good father to his two children — 6-year-old daughter, Taylor, and 23-month-old son, Brayden — would always be his "number one goal in life," and it's something all parents can relate to.
News of the El Moussas' split originally came as a surprise to fans, who had watched as the seemingly-strong couple spent six seasons working together to renovate properties on the HGTV reality show. But what was even more surprising was the fact that they'd actually kept their separation a secret until December, due to concerns over the impact it might have on the future of their show. In January, El Moussa officially filed for divorce from his wife after seven years of marriage, and, for now at least, the two seem to have found that it's entirely possible not just to co-parent amicably, but to continue working together, too: according to Us Weekly, in April, HGTV confirmed that both stars would be returning for a 20-episode seventh season of Flip or Flop, which is set to premiere later this year.
El Moussa's Instagram post is just one of the many posts he's shared about his kids and his life as a dad lately. While he's now living on his own in Newport Beach, California, El Moussa told People in March that he and his wife split custody of their two children "pretty much 50-50," and judging by his social media account, it certainly looks that way.
Earlier this month, El Moussa shared a sweet snap of himself with his young kids out on a boat, and after returning from a fun getaway to Mexico at the end of June, he also voiced his excitement about being reunited with his little ones, writing, "nothing compares to being at home with my babies!!!"
El Moussa's obvious love for his kids is so sweet, especially because it seems to suggest that, despite the breakdown of their marriage, he and his wife really are remaining committed to prioritizing their kids' well-being above all else. In March, Christina El Moussa told E! News that post-divorce co-parenting was going "really great," and that they had managed to figure out something that works. She said,
Tarek and I are in a very good place right now. We're doing a really good job. We share the kids 50/50 and our communication is great. Like I said, the kids are happy, so everyone's doing really well.
As someone who seems to be wholeheartedly embracing fatherhood though, El Moussa's Instagram is also a pretty big deal when it comes to setting the bar for being an involved dad. Compared to previous generations, parenting duties have definitely become more equally distributed gender-wise. According to STAT, studies have found that, of the total amount of time that infants spend engaging with their parents, fathers in dual-earner families are involved about 41 percent of the time, which is a rise from previous years, and is clearly approaching 50 percent. But while that's a really good thing, both for children and for their parents, divorce still often means that many men appear to become secondary parents, even if the intention is to split custody evenly.
Of course, El Moussa isn't the only dad who appears to have remained as dedicated to his kids as ever — and you definitely don't have to gush about your children on Instagram to be a good father. But seeing him appear to be so open about how much he loves his kids is totally heartwarming. And it's a great example of what parenting after divorce could look like.