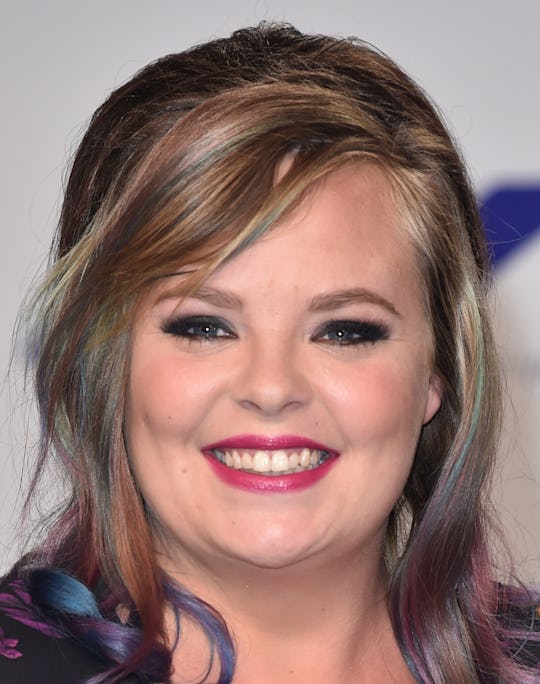 Alberto E. Rodriguez/Getty Images Entertainment/Getty Images
This 'Teen Mom OG' Star Is Seeking Treatment For Suicidal Thoughts
If there is one thing we know for certain, it might be this; postpartum depression doesn't care if you're a famous person. It doesn't care if you're rich, or a celebrity, or have a fabulous Instagram account with thousands of adoring followers who love to watch your life unfurl. It is an insidious, terrifying ordeal, and it can come for anyone. Even a reality star. Teen Mom OG's Catelynn Lowell is seeking treatment for postpartum depression, after admitting she has been having suicidal thoughts on a regular basis.
The 25-year-old mom of 2-year-old Novalee Reign told Radar Online that she was seeking treatment for postpartum depression after experiencing a terrifying ordeal earlier this week:
I'm taking the time I need right now to take good care of myself. On November 17th I thought of every way possible to commit suicide, from wrapping a belt around my neck to just running my car into an electric pole.
Lowell's husband, Tyler Baltierra, was reportedly there to support his wife through her dark day, and she was quick to acknowledge the benefit of a strong support system to Radar Online:
Thank God I have a support system and a husband and a daughter. Thank God I am self-aware.
The young mom tweeted about going for treatment with the hashtag #MakeChesterProud, referencing former Linkn Park front man Chester Bennington, who struggled with depression and committed suicide in July.
Bennington's wife, Talinda Bennington, responded to Catelynn's tweet.
Postpartum depression affects between 11-20 percent of women who give birth each year, according to the Centers for Disease Control and Prevention. Some of the symptoms for postpartum depression include:
Crying more often than usual.
Feelings of anger.
Withdrawing from loved ones.
Feeling numb or disconnected from your baby.
Worrying that you will hurt the baby.
Feeling guilty about not being a good mom or doubting your ability to care for the baby.
The CDC notes that most people get better with treatment, so it's good news that Lowell made the tough decision to go seek out treatment for herself after experiencing those suicidal thoughts. As she told MTV News in a statement:
I'm seeking help for myself and my family. Thank you to all of my supporters. My family and I would appreciate some privacy at this time.
She also wanted to stress that her treatment would focus on mental health issues and not drug use.
This isn't the first time Lowell has sought out treatment for postpartum depression; in March 2016 she entered a treatment facility in Arizona for issues stemming from depression and anxiety.
She shared a picture from the airport on Instagram at the time, with a message about leaving her home state of Michigan in the hopes that she would return to her "normal self."
Arizona here I come... I can't wait to be back to my normal self... this is for me and my family.. Novalee and Tyler I love you both very much!!!
Lowell has had to deal with some seriously adult situations for someone so young, including the painful decision she and then-boyfriend Baltierra made to give their first child, Carly, up for adoption when the pair were just 16-years-old. While they have stayed connected through Carly's adoptive parents, it could not have been easy.
These days, Lowell is a little older and a little wiser; wise enough to know that she needs to take care of herself if she's going to be able to function as a mom. She told Radar Online that she is seeking treatment and knows she "WILL get better. This won't last forever."
And she shared a pognant message for other women who might be struggling with postpartum depression:
Anyone feeling alone you ARE NOT ALONE! This world needs all of us in it! We are all here for a reason. Thank you for your support during this tough time. Much Love.
It's easy to envy celebrities, to assume that their lives are so much easier than our own. But the reality is, they struggle with all of the same demons as us normal people.
The difference is, they struggle in front of the whole world.
Check out Romper's new video series, Romper's Doula Diaries:
Watch full episodes of Romper's Doula Diaries on Facebook Watch.