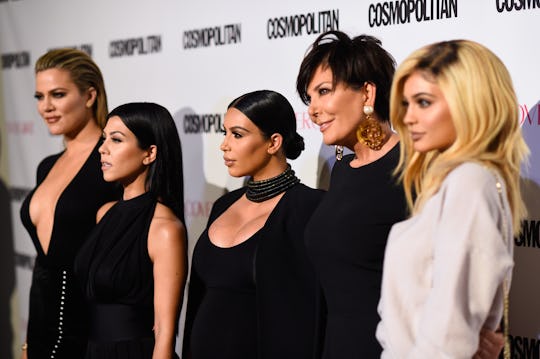 Frazer Harrison/Getty Images Entertainment/Getty Images
This New Kardashian Pregnancy Theory Will Totally Convince You There Was A ~Plan~
When the story unfurled that two Kardashian sisters and a Kardashian surrogate were all reportedly pregnant simultaneously, conspiracy theories began to abound. Did the sisters all plan to raise kids who are all the same age? Was it more of a business decision for the Kardashian brand than anything else? Regardless, one new theory about the Kardashian pregnancies, as presented by Vogue, incorporates actual sociological research that sheds light on other friendship-fertility patterns. Aside from celebrity intel, the info might give insight on social situations that exist a little closer. Know a mommy friend group that all had their first and second kids spaced evenly out? There could be a reason for it.
Before getting into the nitty-gritty science of it all, it's worth noting that, as of now, the Kardashian-Jenner pregnancies remain unaddressed by the sisters themselves, aside from Kim confirm that she and husband Kanye West are indeed expecting their third child, reportedly via surrogate. But, any time the clan posts on social media, more questions arise from fans, amidst mounting reports that Khloé Kardashian, Kylie Jenner, and Kim Kardashian's surrogate are all expecting children. For Khloé and Kylie, these would be their first children with their respective boyfriends Tristan Thomas and Travis Scott. Rumors that eldest sister Kourtney is also pregnant have circulated through the news, too, likely out of fans' hopeful thinking more than anything else. Kourtney's response to the rumors has been deflective at best. Four Kardashian-Jenner pregnancies at once? That's too crazy of a coincidence, right?
Obviously, Khloé and Kylie have had a blast being aunts to their sisters' and brother's children, as proven by their constant posts of adoration for the little ones. It's this influence that might make them more likely to want kids of their own. So do friends choose to plan out their babies together?
As Vogue recently uncovered, 2014 study published in an issue of the American Sociological Review found that teenage girls were more likely to have a child if one of their friends has one already. But, co-author of the study Nicola Barban explained to the magazine, "the effect of a friend giving birth is not immediate." So it's not simply that "friends just decide to have children at the same time" — it's more that one friend sees that another's mothering experience, then seeks to emulate it. Given the five children born to the Kardashian women as of now, this example of motherhood is certainly prevalent — to Khloé and Kylie especially.
But, UCLA Psychology Clinic director Danielle Keenan-Miller, Ph.D. explained to Vogue, the reasoning behind similar pregnancy timings might be even more simple. "Friends tend to be around the same age and reach milestones like jobs and marriage at nearly the same time," she told the publication. And, whereas 20-year-old Kylie isn't quite the same age as her 33-, 36-, and 38-year-old sisters, she does live a similar lifestyle to them. She's got her own business and her very own show; suffice it to say, she doesn't live the life of your everyday 20-year-old, so she might think that she's ready for her first child.
What's more, Keenan-Miller went on to explain that having children at the same time as your friends provides a built-in, relatable support system. "Parenthood can be daunting and when people go through something that makes them afraid, there's the perception that it'll be better if there's someone out there who is also going through it [and] can hold your hand," she told Vogue.
Khloé, Kylie, and Kim definitely have a support system in one another and in their family. "Kylie loves how close-knit her family is," an insider revealed to Us Weekly when the pregnancy news first broke in September, noting that, because of this, "Kylie feels more prepared than ever to be a mom."
The three sisters are reportedly due in early 2018, but it's likely the world will have to wait until more episodes of the newest season of Keeping Up with the Kardashians before getting all of the details.
Watch Romper's new video series, Romper's Doula Diaries:
Check out the entire Romper's Doula Diaries series and other videos on Facebook and the Bustle app across Apple TV, Roku, and Amazon Fire TV.