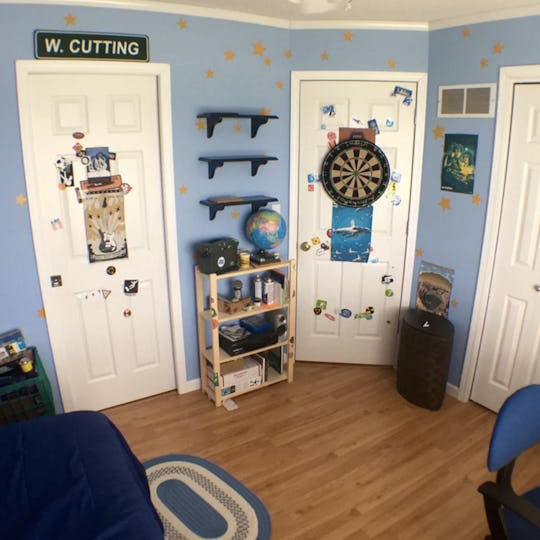 This 'Toy Story' Fan Recreated Andy's Room In Unbelievable Detail, And Yes, I Would Live There — PHOTOS
There are super fans for all kinds of things. There are Potterheads (Harry Potter mega-fans who sip on butterbeer and play an IRL version of Quidditch) and Trekkies (who some might argue are the original TV super fans). There are folks like me who identify as X-Philes (you know, folks who have seen every X-Files episode ever, and will never look at Cher the same way again after "Post-Modern Prometheus") and there are folks like the classic SNL Bill Swerski's Chicago Bulls super fans. But nothing beats the incredible dedication of this self-described Pixar fanatic's tribute to Toy Story 3. 
Morgan McGrew, who runs the Tumblr account The Pixarist, has been a major fan of Woody, Buzz, and the gang since he was a kid. By the time part 3 hit the theaters (on June 18, 2010, according to McGrew's Tumblr, a detail only a true super fan would know), the Pixarist realized he needed to "do something big to show Pixar" and the world just how special the film was to him. The following year, McGrew, along with brother Mason and a handful of friends, began working on a shot-for-shot live-action remake of Toy Story 3. While progress on their "love letter" to Pixar has been a bit slow (it is, after all, completely self-funded, with solely the support of family and friends), it's probably one of the coolest, most detailed homages made to Toy Story, or any movie, ever. If you don't believe me, look at this bad ass recreation of Andy's room, which I intend to move into someday to re-live my high school years:
You've got to admire the kind of work that has gone into making this room a reality. From the blue paint and yellow stars on Andy's walls, to the furniture, to the stickers and posters (created in large part thanks to McGrew's brother), it's all there.
Check out Andy's desk, which was refurbished from McGrew's grandmother's desk, topped with Andy's red lamp, and even a few little plastic soldiers. I could totally see myself writing this piece while sitting here, looking out the window, wondering if my toys had any idea I'd be going away to college, er-work, soon. 
I have no idea how on earth they were able to pull off getting this amazing headboard, which is exactly like Andy's in the movie. My love of all things crescent moon makes me swoon at the sight of this, though. I'd get such great sleep here.
McGrew also found this dart board, which is just like the one behind Andy's door, for $5 at a thrift shop. This would be my brain storming area, if I'm allowed to move in, that is.
And of course, Andy's room wouldn't be complete without the infamous toy chest that houses all our favorite characters. 
So what do you say, Woody? Can I move in yet?
Images: Courtesy of The Pixarist(5)