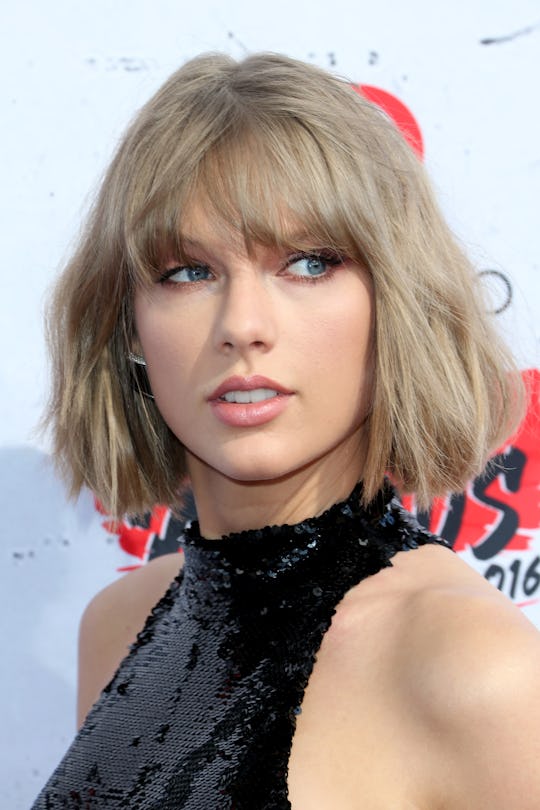 Frederick M. Brown/Getty Images Entertainment/Getty Images
Here's Why That Trump Theory About "This Is Why We Can't Have Nice Things" Is Probably Wrong
After nearly a year out of the spotlight, Taylor Swift is back in a big way. She dropped her first album in three years in the early hours of Friday morning, and Reputation is basically all anyone can talk about. Because of the music, yes, but also fans are madly trying to unravel the cryptic lyrics of all of her songs. I mean, they're always about someone, right? A boyfriend, a feud, Swift herself, even? The social media chatter about Reputation has run amok, but this one theory that "This Is Why We Can't Have Nice Things" is about Trump is pretty out there.
Swift has come under fire for not speaking out about the president over the past year. To be fair, Swift hasn't spoken out about much at all, apparently because she's been busy pulling together her sixth studio album and also being in love with her new rumored boyfriend, British actor Joe Alwyn (although the two have yet to make things official). Her silence on the issue of Trump's presidency has drawn criticism for several reasons.
First of all, Swift has capitalized on her reputation as a feminist (her "squad" et al), but she never actually endorsed the first possible female president, former candidate Hillary Clinton. And Swift has also never spoken out against President Trump or the many things he's doing to hurt women and their rights, as so many other recording artists have, according to The Guardian. That silence has left some people wondering where exactly Swift stands on the political front.
And this fan theory thinks Swift has answered that question with "This Is Why We Can't Have Nice Things." Romper has reached out to Taylor Swift's rep for comment and is awaiting a reply.
While this theory might not be widely shared at the moment, is there a possible clue in Swift's lyrics for "This Is Why We Can't Have Nice Things"
So why'd you have to rain on my parade?
I'm shaking my head
I'm locking the gates
This is why we can't have nice things, darling
Because you break them
I had to take them away
This is why we can't have nice things, honey
Did you think I wouldn't hear all the things you said about me?
This is why we can't have nice things.
The lyrics could be about Trump... but somehow, I don't think so. Swift tends to write songs based on her own, very specific lens (I mean, about herself), and many fans think she has a much more personal axe to grind with rapper Kanye West and his wife, Kim Kardashian, than with President Trump.
To recap the whole Swift-Kimye feud of 2016: West and Swift had already been through something of a feud in 2009, after he famously interrupted her VMA award acceptance with his "Imma let you finish" speech about the inherent racism in the music industry. The two reportedly became friendly after the incident, until West included a few lines in his "Famous" song about Swift. She said she didn't know, there was a phone call recorded by Kardashian kinda/sorta proving she did... and essentially, Swift went underground for almost a year in the aftermath of the blow-up.
The next few lines of "This Is Why We Can't Have Nice Things" seem to point to her feud with West.
It was so nice being friends again
There I was, giving you a second chance
But then you stabbed my back while shaking my hand
And therein lies the issue
Friends don't try to trick you
Get on the phone and mind-twist you
So I took an axe to a mended fence
Of course, it's still perfectly possible that Swift has decided to speak out against President Trump. But given her history of deeply personal songs that relate so specifically to her own life, rather than issues that might affect everyone else, I somehow doubt it.
Check out Romper's new video series, Romper's Doula Diaries:
Watch full episodes of Romper's Doula Diaries on Facebook Watch.