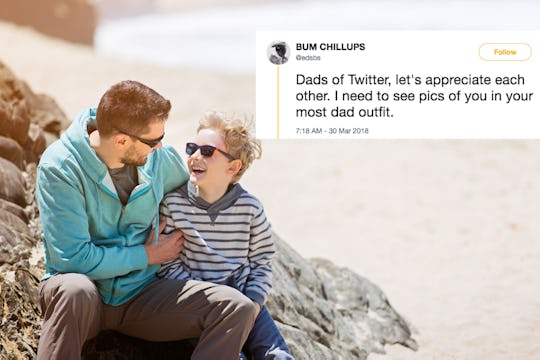 Aleksei Potov/Fotolia
This Twitter Thread About 'Dad Outfits' Might Be The Reason The Internet Was Invented
I dress better than my boyfriend. This is one of my favorite things about us as a couple... although the fact that he insists he has a really great sense of style while also wearing serviceable rubber boots with every outfit he owns comes in at a close second. I'm a serious fan of guys who don't take their wardrobes too seriously, which is why I was so excited to see this Twitter thread about "dad outfits" gracing the internet recently. Because dads need a little love sometimes too, guys, over-sized t-shirts with funny sayings worn without a trace of irony and all.
On Friday morning, a Twitter user and sports blogger who goes by the moniker Bum Chillups took to the social media platform to share an idea. What would it be like if dads supported other dads and their right to wear, say, khaki shorts with white tube socks pulled up to your knees (please note this is just a for instance and in no way based on my own father, of course)? He tweeted, "Dads of Twitter, let's appreciate each other. I need to see pics of you in your most dad outfit." And miraculously, the dads of Twitter were happy enough to respond.
So what qualifies as a "dad outfit" you ask? Other than the fact that a man who has fathered children is wearing clothing and therefore any clothing they wear could be construed, by default, as a dad outfit. Well, a look through the nearly 2,500 responses on Chillups' Twitter feed offered several different takes on outfits dads might wear. The first one I chose because, in my mind, this is the quintessential dad outfit. A large t-shirt adorned with some sort of supportive phrase, in this case "Cheer Dad" because his daughter is a cheerleader, paired with loose jeans and a proud smile.
When this dad was asked if he was wearing jeans or "jorts" (that unfortunate mashup of jeans and shorts), he replied:
I love that his seasons are so painstakingly mapped out between jeans and cargo shorts. As a woman with a few too many dresses she never wears in her closet, I'll admit I'm intrigued by the simplicity.
Of course, not all dads fell into the same category.
There was the jazzy dad, complete with jaunty hat, slightly see-through white top with inexplicable pocket placement, and a gold chain. This outfit is all about dad confidence, my friend.
This guy isn't even a dad yet, but claims his "face has been ready for years." I don't disagree.
Some dads also appear to be especially fond of a monochromatic look, but not in the way you might expect. Instead of black ankle pants and a black turtleneck (my personal favorite go-to outfit) think matching your jogging suit to your baseball cap. With the addition of a cheerful thumbs-up, it's a joy to behold.
Matching tops. The penultimate in dad outfit commitment.
If you thought matching tops was a real dad move, what do you have to say about matching orange jumpsuits?
I don't want to say "nerd dad" for these pictures. But yeah, nerd dad. And loving it.
Not a dad outfit per se, but I'm just going to leave this picture of a dad's face covered in stickers. Because it is probably dad goals.
Last but certainly not least... there's backyard barbecue dad.
I have a theory about dads who embrace the dad outfit trend; I think these guys really just love being dads so much that they're all in, cargo shorts and all. So let's all take a moment to appreciate these dad outfits and the men who wear them, shall we?