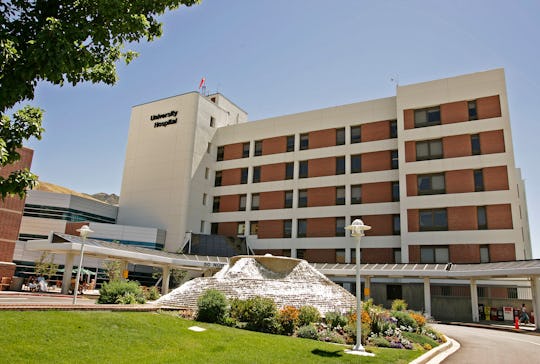 George Frey/Getty Images News/Getty Images
This Video Of A Utah Nurse Being Arrested Has…
Police and medical services should work as a symbiotic team in a perfect world. The core of each profession is about protecting and serving the public. In a perfect world. Unfortunately, the world we live in is not so perfect, and seems to be getting worse. This video of a Utah nurse being arrested because she refused to allow an officer to draw blood from an unconscious patient is causing distress, and for good reason.
Romper has reached out to the Salt Lake City Police Department and is awaiting a response.
Nurse Alex Wubbels and Officer Jeff L. Payne were locked in a battle of wills on July 26 at University of Utah Hospital in Salt Lake City. Officer Payne wanted to draw blood from an unconscious patient, allegedly to check for possible illegal substances. According to The New York Times, the patient had been involved in a car crash with another vehicle fleeing from police. The driver of the other vehicle was killed, and the unconscious patient in Wubbels care was not under arrest. Hospital policy had clearly laid out the three conditions that need to be met to allow blood to be drawn:
the patient must give consent
a warrant must be provided
the patient must be under arrest
Since none of those conditions were met, Wubbels naturally would not allow Officer Payne to violate her patient's rights. She printed out the hospital policy to share with police, contacted hospital administrators, and even had her boss speak to the police on speakerphone to explain that they were not allowed to extract blood from the patient.
And that's when she was arrested for doing her job.
In the video, which was taken from another officer's bodycam, Wubbels (who is the nurse in charge of the blood unit) attempts to appease the irate officer, explaining according to CNN, "I'm just trying to do what I'm supposed to do, that's all."
When she ultimately refuses to allow blood to be taken, Officer Payne loses his temper. He tries to grab her phone out of her hand and chases her as she backs away, saying, "Oh please, we're done here. You're under arrest. We're done. We're done." As Wubbels screams for help and security staff stand by and do absolutely nothing at all, Payne roughly pulls her out of the hospital and handcuffs her. She was released after 20 minutes without being charged, but the irreparable damage had already been done.
Officer Payne, as well as another officer, have both been put on suspension for their behavior. Salt Lake City Mayor Jackie Biskupski and Police Chief Mike Brown both issued statements after the video was released earlier this week apologizing to Wubbels, with Chief Brown noting an internal investigation has been launched and saying, according to CNN:
I am sad at the rift this has caused between law enforcement and the nurses we work so closely with.
As for Wubbels, she and her attorney, Karra Porter, chose to come forward with the video to shed some much-needed light on the abuse of police authority, and the lack of aid she received from security who were meant to be there to protect her. She told CNN:
I felt obligated to release it on behalf of anyone that's ever gone through something like this. Just being bullied by police for any particular reason in a health care setting. This should never have happened and it should not happen again. We have to have a conversation and a discussion.
At the end of the day, Wubbels should take enormous pride in her own behavior. She defended the rights of her patient even under extreme duress and pressure. Would that Officer Payne had been able to do his job as well as she.