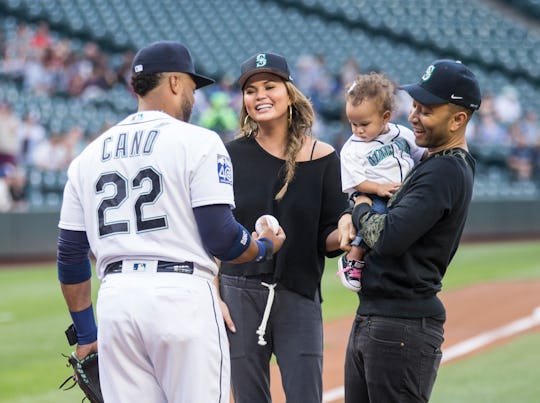 Stephen Brashear/Getty Images Sport/Getty Images
Jam Out To This Video Of Chrissy Teigen Rapping A Bedtime Story
Chrissy Teigen is known for her hilarious and honest social media posts about what it's like to be a parent. But this time, she's outdone herself. Over the holiday weekend, Chrissy Teigen rapped a bedtime story to Luna and to be completely real with everyone, JAY-Z might have some competition for his 4:44 album release.
Instead of merely reading Barnyard Dance!, Teigen took advantage of the popular children's book's couplets to lay down some beats. Luna, just 1 year old, dances along in a white onesie that says "gangsta napper." (Which, by the way, is sold by the social media sensation Betches.) A man, possibly John Legend, laughs in the background.
This family could not be any cuter. Luna claps her hands and reaches down for another book for her mom to rap. Teigen should definitely consider laying down an entire album of her rapping popular children's books. At least it makes reading the same old bedtime story over and over again sort of interesting. (Because those board books can get old very fast, be honest.)
Luna is obviously very into music. Just last month, the supermodel and cookbook author shared another video of Luna dancing on a counter in their house. She captioned that video, "get it girl!" How do we get in on these Teigen-Legend family dance parties? Because they look like so much fun.
But Luna isn't just good at dropping it like it's hot, she can also play the piano. Well, sort of. Hey, for a 1-year-old, she's pretty good. In June, Teigen posted a video of herself and Luna sitting down at the piano, tapping on some keys, and then another video of Luna all by herself trying to figure out how the keys and the noises sync up. In the video, Teigen tells her that she's doing good, but the baby gives up pretty quickly. As babies do.
Teigen and Legend are enjoying being parents, though it hasn't been totally easy. Earlier this year, Teigen wrote an essay for Glamour in which she opened up about her struggles with postpartum depression. Recently, she told Marie Claire that she and John have thought about other children. Teigen said:
I would definitely adopt or have foster children. But I loved being pregnant. Maybe I should be scared [of having PPD again], but I don't know. It couldn't be any worse than it was — could it?
That's definitely a smart question to ask before embarking down the pregnancy road once again. No one would judge Teigen for wanting to wait just a little bit longer (or forever) before having another kid. She has an album of baby book raps to put together, after all.