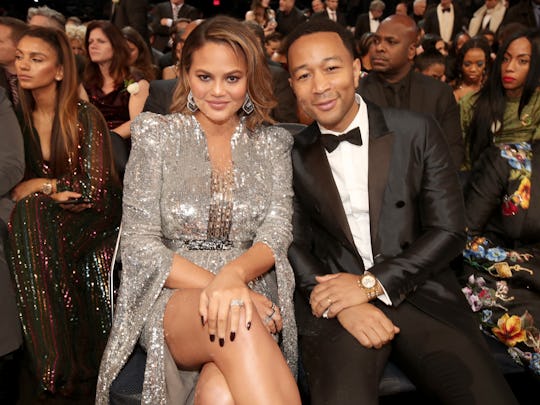 Christopher Polk/Getty Images Entertainment/Getty Images
This Video Of John Legend Dancing With Luna Is Exactly Why Everyone Loves Him
I sort of wish I didn't like John Legend and Chrissy Teigen as much as I do. Generally speaking, when people have that much talent and love and beauty and happiness, it's a recipe for me to look for something wrong on account of I'm a bad person. But with these two, I just can't. It's not that I can't find anything wrong with them, nobody's perfect, it's that I simply would never bother trying. For the same reason I don't tell small children that Santa Claus doesn't exist. Because we need magic. And this video of John Legend dancing with Luna to a John Legend song is just about as much magic as I can stand for today.
The "Love Me Now" singer and his almost 2-year-old daughter have become pretty famous for being adorable together on the internet. His wife, model, cookbook author and social media autuer Chrissy Teigen has caught the sweet father/daughter duo in some pretty lovely and unscripted moments, whether they're napping together, playing on the floor, or just talking. And now we can add dancing to Legend's new song, "A Good Night" into the mix. Yes, I know it's a way of plugging his work. But watch the video Teigen shared on Instagram for two seconds and then tell me you're not bowled over by the clear-eyed love between the two. Especially when Luna says "My dada," with a smile on her face.
Trying to come up with some words for how uncomplicated and lovely this moment was? Well, here are a few comments from Teigen's Instagram followers to give you a hand.
My heart just exploded into a million pieces ❤️❤️❤️😭 so cute
I can't with this!!! Too cute for words!!!
OH MY GOODDD she said "that's dada singing" OUCJHH MY HEART 😭😍💖💖 that is too freaking cute.
It would be ridiculous of me not to share some more sweet moments between Luna and Legend, like this one where she is styling her dad and reminding him to say "please" as she (somewhat) gently combs his hair.
And then there's this napping picture. I'm just going to go ahead and leave this here.
As everyone in the world probably already knows, Legend and Teigen are expecting a little boy later this year. And Legend told Entertainment Tonight that he is beyond excited to welcome another baby into the family. For a few amazing reasons that will make you love him even more, as if that's possible.
First of all, he's excited to see Luna as a big sister, as he told the media outlet:
We're just excited to see how we're going to be as parents of two, and how Luna is going to be as a big sister. It's going to be really exciting and fun.
And perhaps best of all, was what he had to say about his beloved bride:
It's always exciting because you never know what they're going to be like. You're just excited that another product of your relationship and your love is going to be out there in front of you.
Legend also pointed out that he can't wait to see Teigen with their son because:
We'll see how he is with his mom, because you know, I hear sons are really good with their moms.
I can't even get mad at this gentle little piece of gender stereotyping that normally gets under my skin. Because Legend, Teigen, and Luna just seem like a nice little family. Who love each other and have a blast together.
I wish I could hate on them. But I find I cannot.