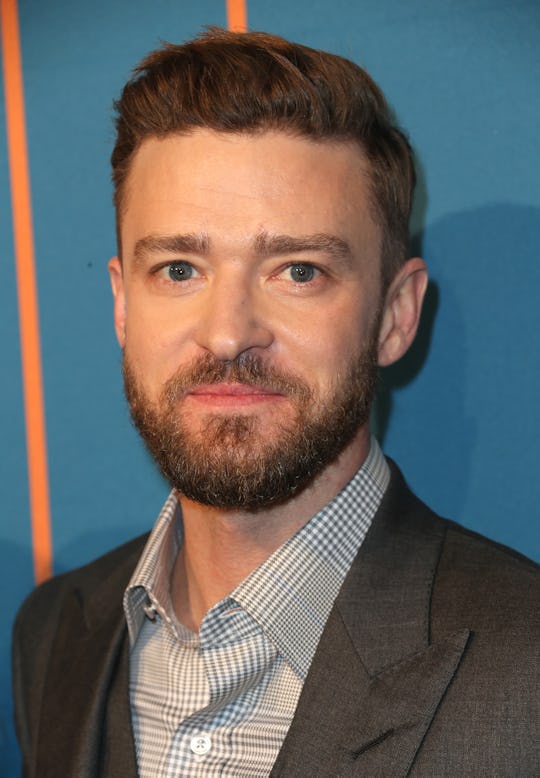 Frederick M. Brown/Getty Images Entertainment/Getty Images
This Video Of Justin Timberlake & Son Silas Working Out Is Seriously Adorable
Justin Timberlake is all about being a family man these days. He has gone on record more than once talking about how happy he is to be a dad to 2-year-old son Silas Randall with wife Jessica Biel. But that doesn't mean he's about to get all "Dad Bod" on everyone. Sure, Timberlake might have enjoyed a little decadent indulgence like the rest of the country for Thanksgiving. But this video of Timberlake and son Silas working out shows that he's willing to put in the work to take off those pumpkin pie pounds.
The "Cry Me A River" singer took to Instagram on Saturday to share a short video of his apres-feast workout with his 47 million followers. In the video, Timberlake is doing push-ups like a boss. Or perhaps more accurately, like a dad since son Silas is spread out across his back while he's working out. To be honest, it looks to me like Silas is really just riding his dad's coattails during this workout and not really doing anything significant himself. But he gets a pass on account of being only two and therefore probably not in desperate need of a workout regimen. Timberlake captioned the video:
Shaking off those leftovers like... Hope everyone had a great Thanksgiving!
Of course, fans immediately went gaga for the video, with one Instagram user writing:
Omg too cute hey little kids come in handy for us hahah hope you're u guys had a great thanksgiving too love you.
According to wife Jessica Biel's Instagram pics of the couple's Thanksgiving eats, it seems Timberlake enjoyed a day of feasting before hitting the sidewalk for a little workout. The couple were just hanging out at their house, whipping up a bunch of pies and being their best selves. In one Instagram video Biel posted, Timberlake is expertly torching the top of a pumpkin meringue pie which looks delicious. And speaking of delicious... Timberlake can be heard saying "Thanksgiving Dad Life" which needs to become a thing everyone says immediately.
And if you thought you were jealous of Timberlake and Biel's amazing talent, beautiful love story, or amazing bone structure... their pie game is going to drive you over the top. Biel posted a pic of four pies the couple baked with the caption:
One pie, two pie, three pie... snore. I hope you all enjoy your food coma naps and family time today. Happy Thanksgiving!
Great, she's funny too. Also one of the pies, or perhaps it's a cake, looks like it might be topped with Oreo cookies. I'm dead.
Timberlake and Biel have been married since 2012 and welcomed their son in 2015. And ever since then, Timberlake has been happily entrenched in family mode. During an interview with Today in 2016, Timberlake credited his son Silas with his hit song, "Can't Stop The Feeling," explaining that fatherhood:
Changes everything. I would never have written a song like 'Can't Stop The Feeling.' I don't know that it was directly inspired to be something that my son could listen to of mine — because there's a lot of music he can't listen to of mine, at least not yet.
Fatherhood has also helped Timberlake see Biel in an entirely new light. According to People, watching Biel switch over into becoming a mom has made a positive impact on Timberlake.
You watch her realize she has a gear she didn't have, and then you go, 'Whoa.'
This is exactly what every mom needs, I think; a partner who isn't terrified when she goes into mom mode, but actually admires it.
Also, a partner who can do push ups with a 2-year-old on his back and win a bunch of Grammys. Whose last name is Timberlake.
Check out Romper's new video series, Romper's Doula Diaries:
Watch full episodes of Romper's Doula Diaries on Facebook Watch.