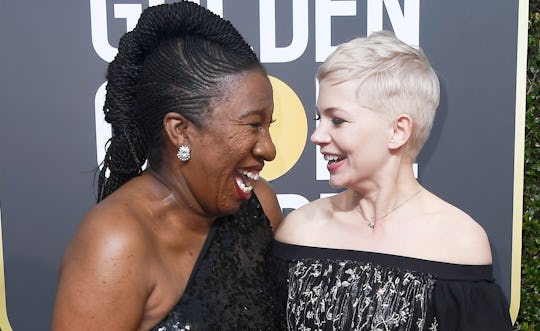 Frazer Harrison/Getty Images Entertainment/Getty Images
This Was The Best Golden Globes Of My Lifetime
The Globes were always the sillier, more drunken Oscars... until they weren't. The once laughable carnivalé put on by the Hollywood Foreign Press Association (who?) became a darkly magic night for women to project their voices; the cauldron of activism, penitence, and a desire not to be the least woke person at the show made for the best Golden Globes of my lifetime. It was a night on which we all cheered "Oprah for president!" and listened to public intellectuals discuss feminism, race, and advocacy on the red carpet, and watched a television show about the lethal power of mothers win the Golden Globe for best show.
The directive for allies of the Time's Up feminist cause to wear black on the Golden Globes red carpet this year was incredibly powerful in its execution. The rainbow-hued dresses of previous years were gone as the catwalk went dark and acceptance speeches took on an activist tone. Actresses who usually succumb to the wishes of their designer sponsors, broadcast partners, and agents — wearing whatever they are told, turning on the froth for the mani-cam, and enduring patronizing "how did you get ready?" banter — refused to partake in the spectacle, appearing instead as a coven ready to burn something down, and in many cases toting activists on their arm as their guests. Women across industries owned the Golden Globes, and the raw energy made it the best show in memory.
The shift in etiquette and in performance was unmistakable. Interviewed by Ryan Seacrest on the red carpet, Michelle Williams deferred to her guest, Tarana Burke, the founder of the #MeToo movement, offering one tiny morsel for the hungry press corps only after she had let Burke speak. "I thought that I would have to raise my daughter to know how to protect herself," she said of the power and optimism the movement had created.
"What are you wearing?" the world asked the women of Hollywood tonight. "I'm not currently answering patronizing questions," came the answer.
Crucially, the men in attendance seemed to understand that this wasn't about them, acknowledging a decades-old truth that men are the most boring thing about awards shows. Hugh Jackman deferred to his muggle wife, Deborra-Lee Furness, in a pre-show interview, and This Is Us's Sterling K. Brown invoked intersectionality in his acceptance speech for best supporting actor in a drama, noting the limited roles available to black men, even through colorblind casting. Only James Franco seemed to miss the memo.
It was easy to write off the dress code as a gimmick, but exposure is currency for high-profile actresses — the three-month-long awards season that kicks off with the Globes and ends with the Oscars is a king-maker for up-and-coming designers — so the decision to boycott the #coloroftheyear, to strip out any sort of individual fashion statement, and adopt a uniform was historic. It was collective bargaining, and a sanction of sorts — cutting off supply of celebrity froth and submissiveness and ad impressions. It was starving the beast — participating, but dictating the terms on which they did so. Black is a color associated with warding off dark spirits, with strength. As Alison Brie told E! News, "We talk about wearing black, and [how that] could be construed as somber but [the mood here is] so celebratory."
Laura Dern thanked her "family," the sisterhood behind Big Little Lies, and Kidman praised the "power of women" in her own speech. Men were still played off by the orchestra as they rambled on down their thank-you lists, but in the wake of #MeToo, and the revelation of widespread trauma, the Globes had a hard edge: energized faces in a parade of black.
It was also a rejection of the status quo. The first awards show in memory in which there was a "collision of these two worlds," as Burke put it, of the involvement of the non-famous that fractured the careful reality Hollywood manufactures. It ruptured the tacit understanding that the awards show was merely a place for boob tape to do its job and the non-photogenic to be ushered through an alternate entrance and fill seats for the Beautiful when they needed to use the bathroom. The optics of having organizers, politicians, and activists on the arms of top-tier celebrities lived out the threat to men that we will "replace them."
Among the actresses who brought prominent organizers as their Globes guests were Michelle Williams (whose idea it was), who brought Tarana Burke; Laura Dern, who brought Mónica Ramírez; Meryl Streep, who brought Ai-jen Poo; Emma Stone, who brought Billie Jean King; Susan Sarandon, who brought Rosa Clemente; and Emma Watson, who brought Marai Larasi.
As Hadley Freeman wrote for the Guardian in 2014, "The red carpet is such a strange zone in the western world, one utterly untouched by feminism... it is a place where there is a tacit agreement that both celebrities and the public are idiots and will be treated as such by entertainment journalists." In 2015, Reese Witherspoon threw the #AskHerMore movement into the spotlight when she asked journalists to look beyond actresses' dresses and ask questions that get at their craft. These women have been sending signals for a long time; this did not start with Rose McGowan.
You cannot talk about the power of fashion on the red carpet in the era of #MeToo without considering the link between Marchesa, the label run by Harvey Weinstein's estranged wife, Georgina Chapman, and the lecherous abuse of power by her allegedly predatory husband. Felicity Huffman admitted to feeling pressure to wear Marchesa while starring in a Weinstein movie, Trans-America. Many other celebrities join her in the cross-pollination of Weinstein projects and stars kitted out in Marchesa: Diane Kruger, Jennifer Lopez, Amy Adams, Heidi Klum, Nicole Kidman — the list goes on and on. Tonight, the total of actresses wearing Marchesa was zero. Change happens slowly... and then all at once.
Actors are paid to recite lines, to inhabit other people's ideas, and to hide themselves from the viewer. They are, as Bertolt Brecht believed, a neutral mask on which emotion can be hung. We seldom ask them to think, or to speak. But tonight, they showed that they know their power, and that they wanted to use that power to effect change. "We don't want to create a hierarchy," said activist Marai Larasi of being chaperoned into the power zone as a guest of Emma Watson, "but [the women of Hollywood] have the opportunity to amplify."
Sounding more like a feminist leader than an actress, Laura Dern later said, "It was a culture of silencing and that was normalized. I urge all of us to not only support survivors and bystanders who are brave enough to tell their truth, but to promote restorative justice." The lights are on, and I think many of us wonder how we can go backward to what the Globes were.
The implications are farther reaching than Hollywood. Time's Up has already amassed a legal fund of $16 million, earmarked for women in farm-work, industrial labor, hospitality to arm themselves for the fight ahead. The actresses who "dazzled" in black tonight are amulets for the cause. As Brecht also said, "Art is not a mirror with which to reflect reality, but a hammer with which to shape it."
Check out Romper's new video series, Romper's Doula Diaries:
Watch full episodes of Romper's Doula Diaries on Facebook Watch.