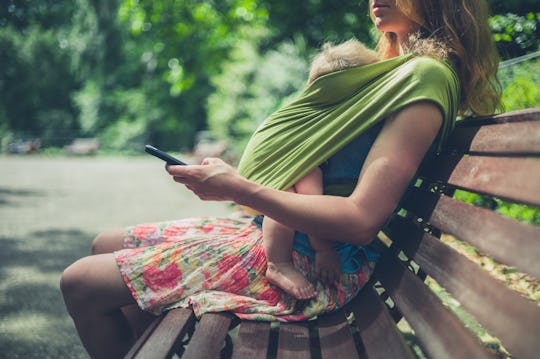 LoloStock/Fotolia
This App Promises To Help Moms Of Kids With Special Needs Find Their Village
It's no secret that making friends as an adult is hard, but there seems to be a lot of pressure on making friends as an adult when you're also a mom. Will your kids play well together? Do they even want a new mom friend? Are you supposed to just walk up to someone in Target and ask them if they want a coffee? It seems everyone talks about raising kids in a "village," but how are you supposed to create your own? Add in the extra layer of making friends as a special needs mom and suddenly you're in even more unchartered territory. Which is exactly why the app Wolf + Friends promises to help.
I know — another app promising to help you create a community for yourself? But this one is different. Wolf + Friends is specifically designed for moms who are raising kids with special needs such as autism, anxiety, ADHD, sensory processing issues, developmental delays, mental health issues, Down syndrome, and other learning differences. The entire premise of the app is for these moms to find others just like them in their community or neighborhood so they can build the support system and village that so many moms are looking for (or are taking for granted). Being a mom is never easy, but being mom to a child with special needs puts you in a camp not everyone can understand — or even access. With the Wolf + Friends app, you're able to start up the community, find your "tribe," and get the support you need.
A press release for the app states that members can "create a peer-to-peer support system via direct messages and group chats, making connections with new friends and mentors." There is also a content feed in the app that will include news, "stylish and developmentally appropriate products" you can shop for, and even "lifestyle tips from occupational therapists, speech and language pathologists, child psychologists, behaviorists, financial advisors, and other experts." It's a one-stop shop for the mom who often feels totally alone — and it reminds her that she's definitely not. Screenshots from the app show the option to choose from a list of "what makes your child special," as well as the option to describe yourself with icons like "party planner," "just winging it," and "barely keeping it together" so you can find like-minded friends.
While I don't have a child with special needs, I love the entire premise behind Wolf + Friends. So many moms who are raising kids with developmental delays or disorders have told me before that it often feels like they're in their own little world — and nobody's interested in traveling to see them. It can be so difficult to navigate motherhood and the tricky parts of playdates, making friends, and creating a social life for your child when your little one isn't as understood as his peers who are considered "neuro-typical." But this app hopes to change that.
"Wolf + Friends began as an inclusive shopping platform for parents raising children of all abilities," Carissa Tozzi, co-founder of Wolf + Friends, said in the app's press release. "But we soon discovered that our amazing community of special needs moms needed more support. Many were feeling isolated and alone and wanted to meet friends nearby who would truly understand the beauty and challenges of raising a child with special needs."
If that sounds like you, download the Wolf + Friends app. It's currently available on the app store for IOS devices and is free. With a current 5-star rating, it's obvious the app has hit home for a lot of moms. It might be just what you need to help navigate the rollercoaster of parenting a child with special needs.