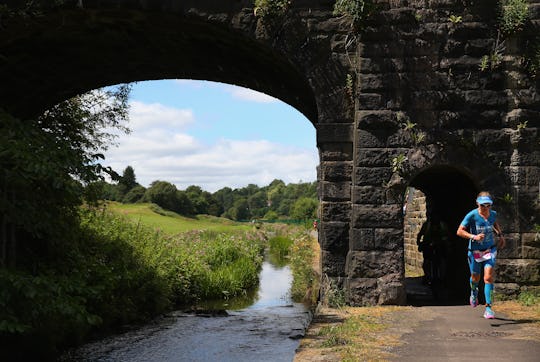 Alex Livesey/Getty Images Sport/Getty Images
This Woman Completed An Ironman Competition While Pregnant, Like A Total Badass
When I was pregnant, I struggled to boil water for a cup of tea. Not only was I exhausted, but I had the attention span of a goldfish. Plus, pregnancy was sort of my get out of jail free card, if you know what I mean. Particularly with my last two pregnancies; I knew I wouldn't be getting any rest for months or years to come, so pregnancy meant I could lounge a little. Yes, maybe even milk it a bit. So when I read about this woman who completed an Ironman competition while pregnant, I might have felt somewhat ashamed. Every woman is different, but still... I probably could have gotten my act together a little.
Meredith Kessler of New Zealand completed the Ironman New Zealand in March, when she was four weeks pregnant. To be fair, she is actually a professional triathlete; she was actually representing ZUPA Noma Chilled Soup for the event. But come on now, that's pretty unreal. At the time, Kessler didn't yet know she was pregnant, but anyone who has been pregnant knows what the first trimester feels like; having to pee all the time, bloating, tender breasts, irritability, and morning sickness for some. Imagine feeling like that as you swim 2.4 miles, cycle 112 miles, and run a marathon as a grim little chaser to your long day. Now that was Kessler's 60th Ironman so she pretty much knew what to expect; unfortunately you can't expect the same results when you're expecting.
Despite having trained "25 to 30 hours per week" in preparation for the gruelling competition, Kessler told Fit Pregnancy:
I did not feel like myself out there on the race course and it makes sense to me now why I was so nauseous, ill and having pockets of vomiting throughout the nine-ish hours of racing! There was a severe lack of stamina and fortitude that I couldn't pinpoint at the time and there didn't seem to be a way to salvage any gusto while navigating through the race.
Unbelievably, she still managed to finish the race in third place.
These days, Kessler is further along in her pregnancy and making sure to listen to her body. She still trains, but she told Shape magazine that:
I used to have nearly four hours of training done by 9 a.m., but now that I'm pregnant, even 6 or 7 a.m. is an early start. The only thing happening before that is me having to get out of bed for the 10th time to pee.
She has kept her healthy eating habits, but isn't above adding in a little chocolate, pizza, or a cookie sometimes for variety.
In other words, she's totally winning at life.
Or beating me by 100 triathlon miles, at the very least.