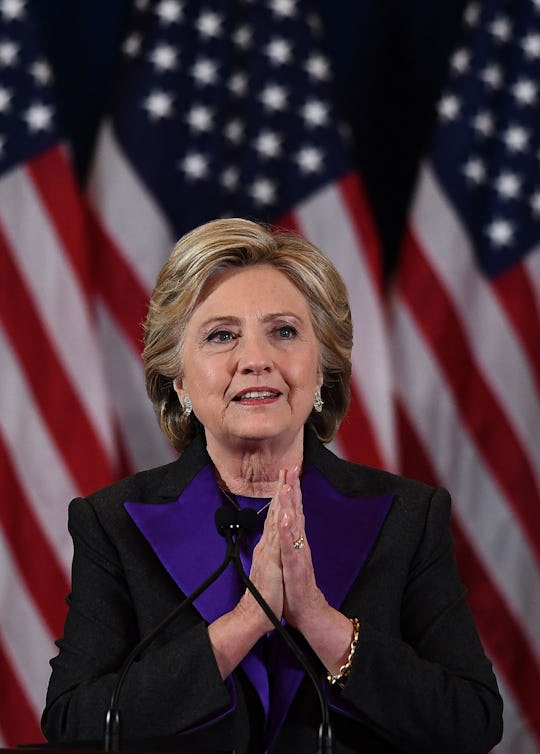 JEWEL SAMAD/AFP/Getty Images
This Woman's Photo With Hillary Clinton After The Election Will Give Hope To Many
Coming to terms with the fact that Donald Trump will be the next President of the United States has been a tough pill to swallow for many. In the days after the election, many still feel devastated and defeated as they listened to the first woman to ever run for president under a major political party deliver her concession speech on Wednesday afternoon. But, this woman's photo with Hillary Clinton after the election is slowly replacing the pain so many are feeling with hope to keep fighting.
On Thursday — the day after giving her concession speech in New York City — the former Secretary of State was spotted for the first time in a non-political setting taking a quiet walk with her husband, former President Bill Clinton, and their dog, Piper, near her home in Chappaqua, New York.
The moment was shared on social media by Margot Gerster as she was taking a hike with her daughters along one of her favorite trails in Chappaqua. She wrote in a Facebook post that she was "heartbroken" by the election and decided that a hike with her daughters would be the best way to relax. Little did she know that her relaxing walk would turn into an inspiring surprise when she ran into Clinton doing the exact same thing.
"I got to hug her and to talk to her and tell her that one of my proudest moments as a mother was taking Phoebe with me to vote for her," Gerster wrote on Facebook, according to The Huffington Post. "She hugged me and thanked me and we exchanged sweet pleasantries and then I let them continue their walk."
Gerster continued, "Now I'm not one for signs but I think ill [sic] definitely take this one. So proud." She finished the Facebook post with the hashtags #iamstillwithher #lovetrumpshate, #keepfighting, and #lightfollowsdarkness.
Gerster's Facebook post and screengrabs of it quickly went viral on Thursday, adding a little pick-me-up to everyone who has been distraught by the election results.
"(My) intention (in posting) was to make people smile," Gerster told CNN after posting the photo on Thursday. "It was a very dark day yesterday, I just feel like the fact I ran into Hillary while I was trying to clear my head, was sort of like a hopeful sign."
Gerster added in the same CNN interview that she "hope(s) the picture brings hope to people who need it."
The photo, which was reportedly taken by Bill, has made many people very happy and proves that the election results haven't shattered Clinton and she's still inspiring women every day. While these next few days, weeks, and months will surely be tough for Clinton, she seems likes she's doing just fine and will keep moving and shaking.