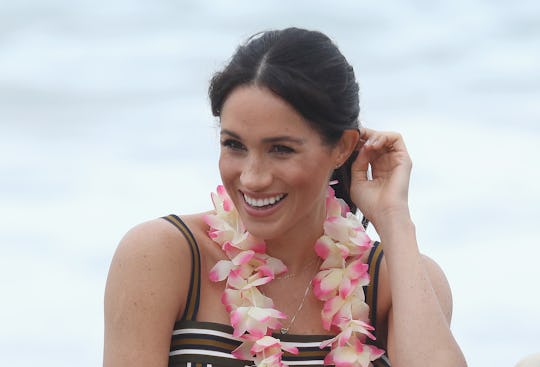 Chris Jackson/Getty Images Entertainment/Getty Images
Thomas Markle Sr.'s Reaction To Meghan Markle's Pregnancy Is *So* Sweet
Meghan Markle's dad, Thomas Markle Sr., has been the kind of person to speak his mind about everything going on in his daughter's life. He's made headlines for his comments about her wedding, her husband, and her childhood — and his comments aren't always positive. But, Thomas Markle Sr.'s reaction to Meghan Markle's pregnancy is so sweet and is the kind of reaction that any daughter would want to hear from their dad.
When Meghan and husband, Prince Harry, confirmed that they are expecting their first child together one week ago everyone reacted accordingly. Meghan's friends (like actress Priyanka Chopra) had nothing but super sweet things to say to the couple, according to Extra. And fans of the couple could not contain their excitement, reacting to the news with really funny comments on social media, according to Harper's Bazaar. But even the couple's family members were excited about the news, too — including Meghan's dad, who finally shared his reaction to the announcement in a new interview with The Mail.
In the interview, Meghan's dad said all the right things, proving to the world that he is so excited to be a grandfather.
"I was filled with love, joy, and happiness for both my beautiful daughter and son-in-law," Markle said. "A new baby is a blessing and I look forward to seeing a little Meghan or a little Harry."
Awwwwwwww. Finally, Markle said something that everyone can agree with.
Markle continued, telling The Mail that he first heard about his daughter's news on the radio and his life was then changed:
The first thing I thought about was holding Meghan in my arms as a newborn 37 years ago. I thought, "My baby is having a baby." It was a very proud moment.
These pleasant comments are a change of pace for Markle. It's impossible to forget the drama surrounding his role around the time of his daughter's wedding in May. Markle was slated to walk his daughter down the aisle at her wedding, according to Insider, but backed out at the last minute due to "unavoidable heart surgery" that didn't allow him to travel across the pond.
After the wedding was over, Markle said that he was happy for the couple — and so people thought that he would retreat from the spotlight. But in the past five months since their wedding, he hasn't. Markle has complained that he hasn't yet met Prince Harry and has continued to provide his commentary about his daughter's life from a distance, according to Insider.
But Markle's reaction to Meghan's pregnancy is super simple and so well stated that it would make anyone, even Meghan, happy to hear.
And just like everyone else, Markle wasn't shocked to hear that his daughter was pregnant, just five months after she walked down the aisle and said "I do." Markle told The Mail:
I wasn't surprised by the baby announcement. Meghan loves children and she and Harry have both been talking about wanting a family from the start. I'm delighted for them both. She's always been wonderful with children and most of her friends have families so she's used to being around kids.
"She will make a fantastic mother," he added.
No matter what Markle has said in the past, people have to love his comments about Meghan's pregnancy. These comments are super sweet and it's the kind of reaction that you would hope that anyone would have to hearing news this big.