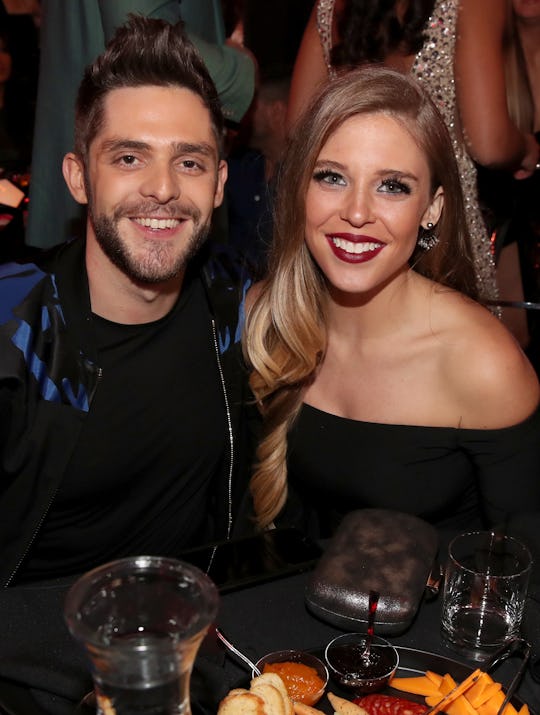 Christopher Polk/Getty Images Entertainment/Getty Images
Thomas Rhett & Wife Lauren Adopt Daughter Willa Gray
Country singer Thomas Rhett has never made any secret of how much he loves his wife, Lauren. His fans practically swoon over his social media gushing over his wife of five years, and so they should. Because it's that level of love, that sort of devotion to the woman he loves, that brought this couple to the family they are creating. After seeing a picture of his wife in Uganda holding a baby she clearly loved, Thomas Rhett adopted the little girl with his wife. Now, after a full year of waiting, the couple have welcomed their daughter home.
According to People, the couple welcomed 18-month-old daughter Willa Gray Akins to her new home in Nashville on Friday. Rhett admitted to the news outlet that the fateful drive to the airport "felt like Christmas Day" in May, he was just that excited. While wife Lauren,who is pregnant with the couple's second daughter, was relieved to have the family together.
It felt like a dream. I've dreamed of us all being on the same continent for so long. It finally feels like everyone is where they're supposed to be.
What a wonderful gift to receive, just in time for Lauren to celebrate her first Mother's Day with Willa Gray, who is nicknamed "Blessing," home.
Rhett shared a sweet pic of the family on Instagram... and if this doesn't melt your heart, I don't know what will.
He captioned the photo:
Everyone meet Willa Gray Akins! I can't believe our daughter is finally home🙌🏼 We have been in this adoption process for what seems like forever and are just so filled with joy that we are all finally home together! Thank you to everyone who prayed every single day for this sweet girl. The Lord blessed us with the most amazing little girl we could have ever dreamed of and we can't wait to watch her grow up!
Lauren initially met her daughter during a 2016 visit to Uganda with 147 Million Orphans, a Christian charitable organization that works to provide medicine, food, water, and shelter for orphans around the globe. Rhett saw a picture of his wife holding the baby, and he recognized something special. He told People:
Lauren had this amazing glow about her and it just felt like she was already our daughter in a weird way. I just blurted out, 'We should bring her home.'
And so they did, but it wasn't an easy road. Lauren went to Uganda in April, hoping to bring her daughter home with her, but she was in her third trimester and needed to come home for a check-up. Her parents were the ones to bring Willa Gray home.
I probably could have pushed it, but I just didn't want to think something could go wrong with my pregnancy. It felt weird leaving one daughter and making sure the other one is okay. But I couldn't do it another way.
Now, everyone is home safe and sound. Willa Gray is reportedly calling her parents "Mama" and "Dada"... and Rhett is on Cloud Nine. Not only has Willa Gray finally arrived, the couple are expecting their second daughter in August.
What a sweet time this truly must be for them. A year full of "Blessings."