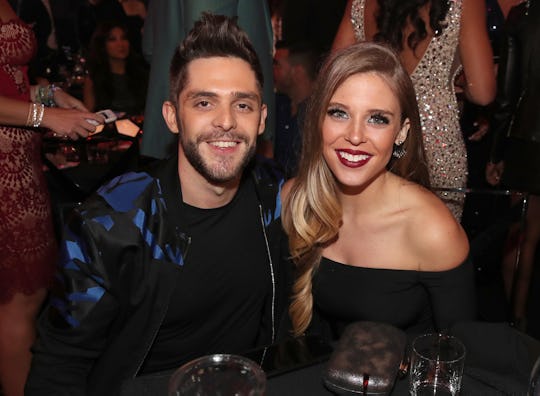 Christopher Polk/Getty Images Entertainment/Getty Images
Thomas Rhett & Lauren Akins Welcome A Baby Girl
For one country singer-songwriter and his wife, an already adorable family just got even more precious. As reported by People, Thomas Rhett and Lauren Akins welcomed a baby girl over the weekend and announced the exciting news on Instagram on Sunday afternoon. And while the arrival of Ada James Akins may mark the first time that the couple went through a birth together, she's not their first child. The new parents adopted their toddler daughter Willa Gray Akins from Uganda in May, and now their family of four is finally complete — at least for now.
Both husband and wife celebrated the birth of their second daughter by posting the same sweet photo snapped shortly after the long labor that ushered her into the world. "Our baby girl is here," Akins captioned her post, which features a pic of Ada wearing a little pink cap and nestled between her clearly adoring mom and dad. "Sweet Ada James Akins came into the world at 10:28 last night after almost 36 hours of labor (only Jesus got me through that-& she is sooo worth it). ... [She] is so stinking cute I just can't take it!"
Stinking cute, Ada James certainly is.
Rhett is similarly infatuated with his new daughter, writing in his own Instagram post that her birth "was truly the most amazing thing I have ever experienced" and that witnessing his wife's 36-hour labor gave him "new found respect for moms around the world."
And in addition to expressing their joy over welcoming Ada into their family, both Rhett and Akins let their followers know that there's a little girl out there who just gained the very important title of big sister, too. "We are so excited that Willa Gray has a baby sister!" Rhett wrote on Instagram of the 21-month-old.
Rhett and Akins completed the long adoption process and finally brought Willa Gray home to Nashville in May. A few months before that, in February, they revealed news of the pregnancy and the impending adoption at once via social media. "We're so happy to announce that we are pregnant & in the process of adopting a child from Africa!" Rhett tweeted at the time. "Safe to say life is about to get crazy!"
Akins first met Willa Gray last year during a trip to Uganda with the Christian charity organization 147 Million Orphans, according to People. They had been trying to have a child on their own with no luck when they decided to start the adoption process, and found out that Akins was pregnant shortly afterwards.
That's a pretty amazing way to start a family, if you ask me. And luckily for fans of the couple, Rhett has an aptly titled album, Life Changes, due out next month, and it will probably provide even more insight about what his family journey has been like. Even more importantly, though, is the fact that those who love this family and their story can expect to see the two little girls grow up. "More pics to come, so get ready," Akins captioned her Instagram photo.
And one thing's for sure: Instagram is eagerly waiting for this next batch of adorable pics to come.