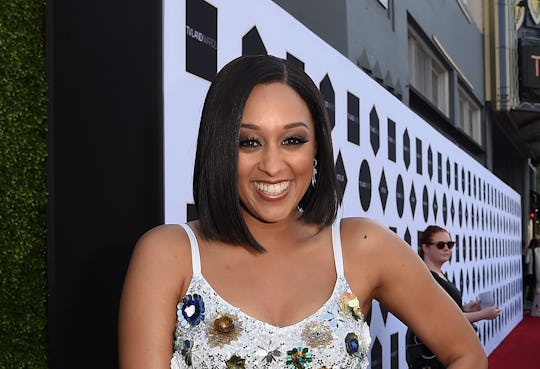 Jason Merritt/Getty Images Entertainment/Getty Images
New Moms Are Loving Tia Mowry's Super Real Postpartum Instagram
When everything is constantly being filtered through perfectly staged photos on social media, it can be easy to forget that in real life, people aren't flawless. This can set us up for unrealistic expectations about ourselves and others, but Tia Mowry's Instagram about new mom life aims to remind her followers, particularly those who have just given birth, that the postpartum period really isn't all that glamorous, and that's perfectly OK. "No #katemiddleton here," Mowry captioned a picture of herself cradling her newborn daughter. And to be fair, behind closed doors, the Duchess of Cambridge probably doesn't look that flawless all the time, especially after just giving birth to her third child last month.
Mowry posed in lounge wear and a sloppy bun for the pic, which is the official uniform of postpartum moms, or as Mowry referred to them, "#teamnosleep." She and her husband, Cory Hardrict, welcomed their second child on May 5. They also have a 6-year-old son, Cree Taylor Hardrict, according to People, and struggled with secondary infertility due to endometriosis before conceiving the new arrival. Mowry may have more resources than the average 39-year-old mother of two, but taking care of a newborn and a grade schooler would exhaust any parent, and it's refreshing to see her keeping it real.
To be fair, Mowry has also glammed it up since giving birth; just a few days ago, she appeared on Instagram in full makeup and hair, wearing a breezy shirtdress to promote the Publishers Clearing House sweepstakes. But she followed that up with another image from the same shoot where she pointed out that even though her style was on point, she still had the body of a pregnant woman two weeks after giving birth, which is totally normal:
This is MY #postpartum. Two weeks in. Do I still have a belly yes. I actually look like I'm 4 months pregnant and that is OKAY. I wanted to shine a light on how our society creates false expectations after a woman gives birth. Ladies, it's okay that our bodies are not PERFECT after our babies are born. Give your self time. Go at your own pace. Don't allow people to put a time limit on YOUR body. You've just accomplished a miracle! #Love yourself, love your new body, embrace it.
The key here is balance. Like Mowry said, postpartum women should go at their own pace, and not let anyone else define how they should look. Dress up for work or a royal wedding if you want, or wear raggedy pajamas if you'd prefer. Get back into the gym as soon as your doctor allows it, à la Khloé Kardashian, or put that sh*t on the back burner for now, like Chrissy Teigen, because you have more important things to worry about. There's no "right way" to do new motherhood, and as long as you're reasonably healthy — or as healthy as a sleep-deprived person can expect to be — your appearance is the last thing you should be worried about, unless you're truly taking joy in that.
Mowry has shown her fans that working moms with infants can be camera-ready if they need to be, but nobody should expect that from them all the time. For more details on how she seemingly has it all, check out her YouTube series, Tia Mowry's Quick Fix, where she shares time-saving mom hacks every Friday, like easy weeknight recipes, advice on organizing your home, and instructions on styling kids' hair. She's also promised to reveal her daughter's name and face on an upcoming episode, so stay tuned.