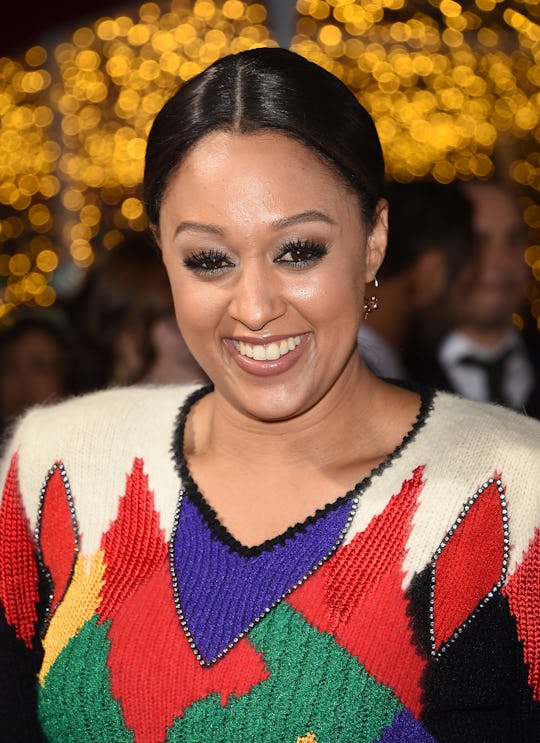 Jason Merritt/Getty Images Entertainment/Getty Images
All Moms Will Appreciate Tia Mowry's Photo Of Her Breast Milk All Packed Up While Traveling
Tia Mowry and her equally famous twin, Tamera, are well-known breastfeeding advocates. And a new image posted on her Instagram Story gave fans a peek inside her own breastfeeding journey right now. On Sunday, Mowry posted a photo of her breast milk while on an airplane and it's the epitome of #MomLife.
In the photo, Mowry shows what's next to her on a flight: Not a Birkin bag or a Vuitton, but a brand-less black plastic cooler, spilling over with frozen breast milk bags, the product of some serious pumping.
"This is how we travel... Breast milk in tow!" she captioned the photo, including a cute bottle graphic including the words, "Mom Life."
Mowry, who grew up on the TV show Sister, Sister, as many fan watched and related to over the years, has been married for a decade to actor-husband Cory Hardrict and is already mom to an 8-year-old son named Cree, according to the Daily Mail. She delivered her second baby, daughter Cairo, on May 5, according to People.
But, as is the story with many moms, her breastfeeding journey has had its ups and downs, and the star has been very vocal about how happy she is that she has been able to succeed in breastfeeding her daughter, as Mowry recently revealed in an interview with Motherly.
For instance, in an Instagram photo posted when Cairo was 6 weeks old, Mowry opened up about the differences she's experienced breastfeeding her two children. "Coming up for air. Boobs glorious boobs," Mowry captioned a photo of her holding baby Cairo. "Feeling pretty good! Wasn't able to breastfeed Cree for long because of low milk supply!
She added, "However, this time around I have plenty. Lots of teas, water, #fenugreek, and a high protein diet has contributed! More importantly, say no to stress!! I'm able to pump 12 ounces alone in the morning for my little brown suga!"
The star's problem the first time, low-milk supply, is not uncommon one. In fact, approximately 15 percent of women experience inadequate milk supply, according to Fit Pregnancy. Factors including caffeine consumption and stress or fatigue contribute to supply worries for new moms, although sometimes babies are not latching right can be behind the whole problem, according to SELF.
It should be noted that, as every mother's experience is different and unique, there is no conclusive evidence that either a specific diet or herbal supplements will work for mothers struggling with milk supply, as noted by SELF.
Besides the happy family news, things are going well for the clan. Mowry has a variety of projects, from cookbooks to a YouTube channel, Tia Mowry's Quick Fix, and hubby Hardrict currently appears on TV's The Oath as he builds up his big screen credits, including the recent 211 with Nicholas Cage and the upcoming The Outpost with Orlando Bloom, according to Entertainment Tonight.
But the star's focus on family has meant a true commitment to breatsfeeding — a commitment shared by sister Tamera, herself a mom of two and co-host of TV's The Real. The pair has, in fact, created their own herbal supplement, Milky!, which is an herbal tea designed to promote lactation.
"My sister and I realized that there wasn't a [breastfeeding] aid that was natural, organic and tasted good so we decided to create one," Mowry told The Bump of her product.
I'm always cheering for new moms, having struggled with breastfeeding issues myself. There's nothing better than knowing you are feeding and caring for your little one properly, and the actress seems to have a handle on it all.
And who needs a cute purse on a plane when you could have a breast pump and an insulated cooler as your chicest accessories?