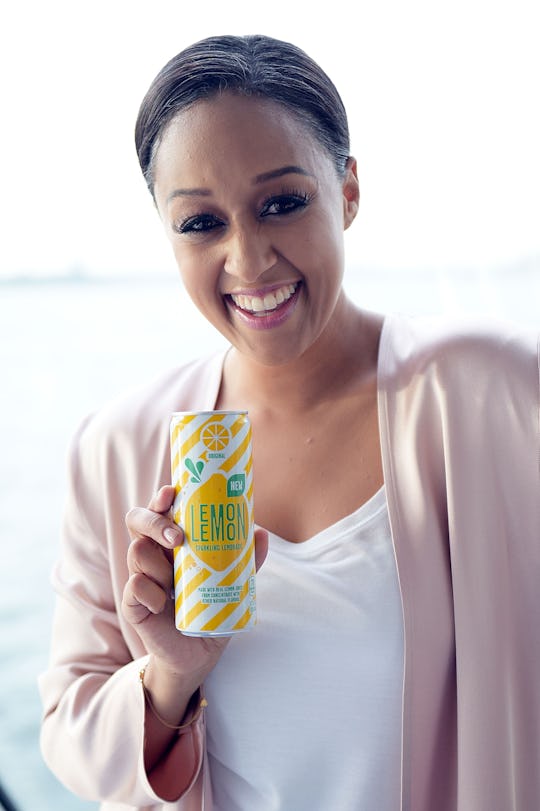 Jason Kempin/Getty Images Entertainment/Getty Images
Tia Mowry's Quotes About Motherhood Are All About Love
Tia Mowry is about to become a mom for the second time, and she couldn't be more excited. As The Game actress gets ready to welcome a second child with husband Cory Hardrict to join 6-year-old son Cree, she must be thinking about how things will change (because I can tell her; things change once you have as many kids as you have hands, trust me). Tia Mowry's quotes on motherhood prove she's up to the challenge of parenting multiple kids, because the girl is always happy to get super real.
The Sister, Sister actress took to Instagram on Thursday to announce that she and Hardrict are expecting their second child. In the picture, Hardrict and little Cree are kissing Mowry's baby bump, while she smiles down at the two of them. She captioned the photo with a heart emoji, because obviously no words were needed. Mowry admitted in a 2015 interview with toofab that she had been thinking about having another baby ever since her twin sister, Tamera Mowry-Housley, gave birth to her second child, 2-year-old daughter Ariah:
It's so funny because that happens to be the question that a lot of people are asking. It's very busy in our household right now, so it's all about trying to find that right time to bring another child into this world. But it's definitely something that's on my radar.
On Her Changing Body
While Mowry recently underwent a body transformation and shed 20 pounds with some healthy lifestyle changes, those changes did not happen overnight. As she explained to Self in 2016, giving birth to son Cree took its toll on her body:
I breastfed my son, and my boobs aren't as perky as what they used to be. I have a little pooch after having my son, and I don't mind discussing that. This is what it looks like after you have a baby. This is who I am, and I love it.
Accepting her body after having Cree was important, and once she adapted to a healthy new lifestyle, Mowry noted an amazing side effect, as she told People:
The cherry on top of this dairy-free sundae is that I got pregnant. Quickly. Given all of my health issues, I hadn't expected it to happen so fast — if at all — but after I'd been following my new regimen for just twelve months, Cory came to visit me in Atalanta, and a few weeks later, we got the happy news!
Getting Emotional
After giving birth to Cree in 2011, Mowry admitted to Momtastic that she was taken aback by the depth of her love for her child:
It's a lot more emotional than I expected. I knew it would be emotional, but I didn't know it would be this emotional. People always say you never know love until you have your own child and all of that is true.
On Marriage, Post-Baby
Mowry has been with her husband, American Sniper actor Hardrict, for 17 years. And she told Parenting.com that having a baby brought them even closer together as a couple.
Cree has brought my husband and I even closer. My advice to couples who want to have a baby is to make sure your relationship is intact and strong because you are going to need to support one another.
Finding Balance
As most moms know, finding a balance between career, kids, and marriage is a constant juggling act. But Mowry believes she has found the key. She told Vibe in 2015:
The number one key is to basically prioritize. I'm a mother and wife first because family is important to me, and a part of having a balanced life is not feeling guilty about taking care of yourself. I will never forget being told by a woman that is a writer, producer and a mother as well. I admire her and asked 'How do you do it?' and she told me, 'You have to take care of the goose, in order for the goose to lay the egg.' So in order for you to be able to execute all of those different qualities as a woman and as a person, you have to take care of yourself. It's easy for us to feel guilty when we put ourselves first, but when this woman said it to me from this perspective, it was so clear and so true.
Here's hoping she remembers to continue to take care of herself throughout her coming pregnancy.