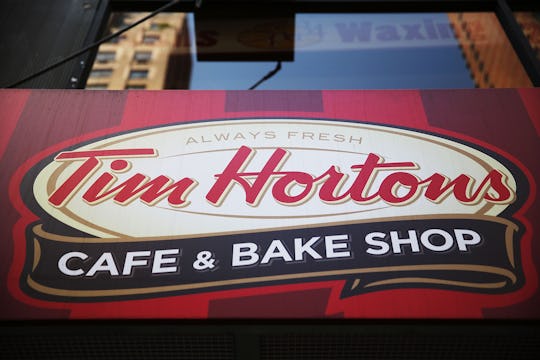 Spencer Platt/Getty Images News/Getty Images
Tim Horton's Mother's Day Donut Bouquet Is Everything
Every year, my lovely sons try to come up with a Mother's Day idea to show me how much they love me. Usually it had to do with clay and paste and flowers made of tissue paper. Also pictures of themselves. But now they are big, and it's getting harder for them. Flowers? Meh. Luckily for them, Tim Hortons has the perfect Mother's Day bouquet for this girl right here. A bouquet of donuts.
In a publicity move that can only be described as relevant, brilliant, and timely, Tim Hortons has announced it will be offering bouquets of their popular Timbits for Mother's Day. Possibly because staff members were getting used to seeing moms sneaking out amid all of the Mother's Day revelry to buy their own snack of Timbits and a coffee. Tim Hortons U.S. executive vice president Felipe Athayde said in a press release:
At Tim Hortons restaurants, we believe all mothers deserve a gift as sweet as they are. As we continue to expand in the U.S., we're excited to raise the bar for Mother's Day gift giving standards with our new Timbits® Donut Bouquet.
Maybe it's the donuts talking, but this makes me feel all warm and melty on my insides. These amazing donut bouquets will be available at select Tim Hortons across the U.S. on Mother's Day only. They even come wrapped in a special box with ribbon, like long-stemmed roses you can eat. Marvellous.
The donut bouquet (which I really hope I'm getting for Mother's Day, in case I didn't make myself perfectly clear), costs just eight dollars and includes 24 tasty Timbits. What sort of flavors will be on offer? The press release noted, according to Business Wire:
The bouquet will include Timbits® flavors like Birthday Cake, Cinnamon Sugar, Chocolate Glazed, Old Fashion Plain, Honey Dip and Apple Fritter.
Not to be a Negative Nelly or anything, but I'm a little sad I can't just pick my own flavors. Because my relationship with salted caramel Timbits has become pretty exclusive. Still, it's good to branch out a little, right? And moms everywhere are pretty pumped about getting a donut bouquet for Mother's Day.
This donut bouquet for Mother's Day from Tim Hortons is a win/win in my books. A bouquet of donuts is clearly Instagram-worthy. And it shows an inventive, thoughtful, whimsical side to your Mother's Day gift giving. It's cheap, and maybe your mom will share with you.
Or maybe your mom will buy this bouquet for herself. There's an idea...